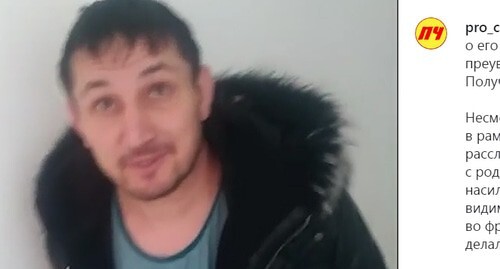 15 April 2021, 15:16
Advocate gives details of his meeting with Magomed Gadaev in Chechnya
Law enforcers have summoned an advocate to Magomed Gadaev, a Chechen native, who was deported from France; the detainee himself wrote a refusal to use the services of a human rights defender. There were no visible traces of torture on Gadaev's body; and he refused to communicate in private, the advocate, Semyon Tsvetkov, has stated.
The "Caucasian Knot" has reported that on April 11, in Novy Urengoy, policemen handed Magomed Gadaev over to Chechen law enforcers, who took him to Chechnya in connection with a criminal case on possessing weapons, while the advocate, Semyon Tsvetkov, was not allowed to accompany his client. On April 14, it became known that Gadaev had rejected Semyon Tsvetkov's services; the advocate was invited by the Human Rights Centre (HRC) "Memorial"*. In the video posted in Chechen Instagram publics, Magomed Gadaev claims that he had not been tortured or beaten up.
Magomed Gadaev, who left Russia in 2010, is a witness in a criminal case brought against Chechen law enforcers under the articles "Kidnapping" and "Exceeding Official Powers", which is still being investigated, the "Novaya Gazeta" newspaper reported earlier. In Chechnya, Gadaev had been kidnapped, kept at some Chechen power body, from where he managed to get out and go abroad.
Semyon Tsvetkov told the "Caucasian Knot" correspondent that on April 14, policemen summoned him, and he had a meeting with Gadaev. "Gadaev made an application that he refused from my services. Policemen were ready to provide us with a room for negotiations in private, but Gadaev refused [...]; he signed the refusal in front of my eyes. The meeting lasted for only 10 minutes," the advocate has explained, adding that he had noticed no injuries or traces of beatings on Gadaev's body. At the same time, Mr Tsvetkov has noted that Gadaev refused to communicate with him. "If a refusal (from the advocate's services) is made [...] under pressure, then, it's another point. But since this is not the case, I have no reason so far to defend him," Semyon Tsvetkov has summed up.
* the HRC "Memorial" is recognized in the Russian Federation as a foreign agent
This article was originally published on the Russian page of 24/7 Internet agency 'Caucasian Knot' on April 15, 2021 at 02:38 am MSK. To access the full text of the article, click here.
Author: Rustam Djalilov Source: CK correspondent