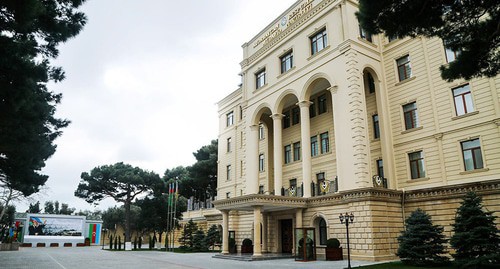 14 May 2021, 14:48
Baku explains situation on border with Armenia by redeployment of armed forces
Azerbaijani border guards are changing their deployment in the Lachin and Kelbadjar Districts bordering on Armenia, the Ministry of Foreign Affairs (MFA) of Azerbaijan announced in response to accusations that Azerbaijani soldiers took up positions in the Syunik Region of Armenia.
The "Caucasian Knot" has reported that on May 12, Azerbaijani militaries advanced three kilometres deep into the Syunik Region of Armenia and, according to the administration of the city of Goris, tried to gain a foothold in the area of Black Lake. The next day, the Azerbaijani militaries again tried to advance deep into the Syunik Region, but were stopped, the Armenian Ministry of Defence (MoD) has informed.
The process of deploying the border forces is proceeding in usual and regular manner in accordance with the trilateral declaration signed on November 10, 2020, the Azerbaijani MFA declares.
According to the Azerbaijani MFA, measures to strengthen the border protection are carried out based on the maps defining the border line between Armenia and Azerbaijan. "It is surprising that the Armenian side reacted inadequately to the process and made provocative statements. We consider unacceptable the attempts to use the issue for political purposes by the official circles of Armenia in connection with the pre-election situation in the country," stated the Azerbaijani MFA as quoted by the "haqqin.az".
The Azerbaijani MFA notes that on May 12, the top-ranking officials from the State Border Service of Azerbaijan were sent to the area in question, the negotiations with border guards of the opposite side are underway, and the appropriate steps are being taken to normalize the situation.
This article was originally published on the Russian page of 24/7 Internet agency 'Caucasian Knot' on May 14, 2021 at 10:05 am MSK. To access the full text of the article, click here.