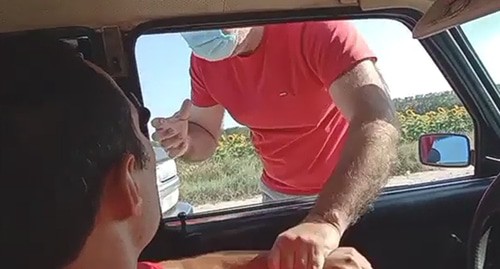 22 July 2021, 14:21
Environmentalists complain about attack during inspection near Essentuki
A group of environmentalists was inspecting an illegal garbage dump near the Klin-Yar nature monument when the landfill owner rammed their car by his jeep; he hit one of the activists and threatened others with violence.
On July 19, Andrei Fokin, a member of the NGO "Russian National Committee for Environmental Safety", together with two eco-activists, Roman Bagirov and Anna Grishina, arrived by car in the Klin-Yar settlement. On July 21, Andrei Fokin himself told the "Caucasian Knot" correspondent about it.
The ecologists' mission was to fix the work of the illegal dump, to which the garbage was dumped by trucks. When the activists got convinced that the landfill was really working, they blocked the exit of trucks with their car and began video filming the developments. Then the environmentalists called the police.
The developments of events was not to the liking of the alleged landfill owner, who, according to Fokin, got into his jeep and crashed into the activists' car. The car moved several meters away by the impact, but the road remained blocked. Then, the jeep driver hit Bagirov, who was driving the car, through the open window, and threatened Fokin and Grishina with execution.
The district policeman and the investigator, who arrived at the scene, questioned all those present about the work of the landfill, and the investigator announced the initiation of an administrative case. Fokine demanded from them to inquire into the brawl and threats, but they refused.
In the morning on July 21, Andrei Fokin filed an application to the Predgorny District Division of the Russian Ministry of Internal Affairs (MIA) demanding to initiate a criminal case under the article on the threat to life by murder or harm to one's health.
This article was originally published on the Russian page of 24/7 Internet agency 'Caucasian Knot' on July 22, 2021 at 06:39 am MSK. To access the full text of the article, click here.
Author: Oleg Krasnov Source: CK correspondent