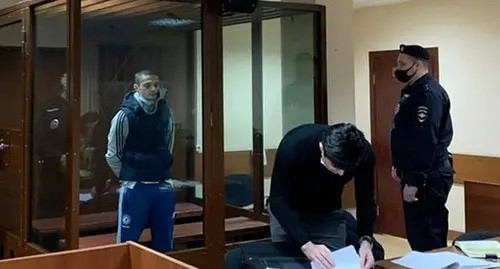 19 August 2021, 23:34
Said-Mukhammad Djumaev sentenced to five years of imprisonment
A court found Said-Mukhammad Djumaev, a native of Chechnya, guilty of attacking law enforcers and sentenced him to five years of imprisonment.
The "Caucasian Knot" has reported that Said-Mukhammad Djumaev, an ethnic Chechen, living in Moscow, was accused of confronting law enforcers on January 23 at an action in support of oppositionist Alexei Navalny. The defence of Said-Mukhammad Djumaev requested the court to close the criminal case with a court fine, but the court dismissed the defence motion.
Today, the Tverskoi District Court of Moscow has sentenced ethnic Chechen Said-Mukhammad Djumaev in the case on the attack on law enforcers. The defendant has been sentenced to five years of imprisonment in a common-security penal colony, the "Caucasian Knot" correspondent has been informed by Murad Musaev, an advocate of Said-Mukhammad Djumaev.
Earlier, Chechen blogger Musa Lomaev and human rights defender Oyub Titiev have explained the wide public outcry around the story with Said-Mukhammad Djumaev by the fact that he became the first Chechen native within many years to take the side of the opposition. By participating in a protest action in Moscow, Said-Mukhammad Djumaev demonstrated the federal authorities that the Ramzan Kadyrov's ability to control natives of Chechnya was exaggerated, human rights defender Ruslan Kutaev notes.
This article was originally published on the Russian page of 24/7 Internet agency 'Caucasian Knot' on August 19, 2021 at 06:52 pm MSK. To access the full text of the article, click here.
Author: Rustam Djalilov Source: CK correspondent