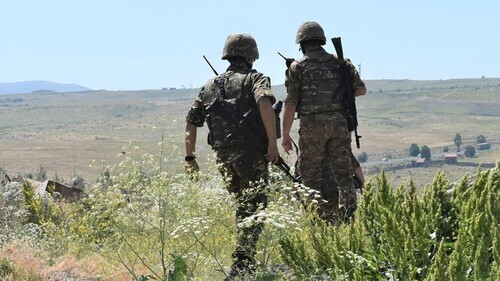 22 August 2021, 11:37
Armenia and Azerbaijan return to pre-war shelling frequency on border
Shelling on the contact line of Armenian and Azerbaijani troops has become as regular as before the autumn war of 2020, but the sides are not using heavy weapons now, the military experts interviewed by the "Caucasian Knot" have noted.
The "Caucasian Knot" has reported that Armenia and Azerbaijan are periodically accusing each other of shelling. Earlier, the Azerbaijani party stated that on August 19, Armenian militaries shelled its positions in the Lachin, Kelbadjar and Tovuz Districts.
The reason for the aggravation of the situation on the border is in Armenia's unwillingness to fulfil its obligations under the trilateral agreement of November 9, 2020, said Igor Korotchenko, the editor-in-chief of the "National Defence" magazine.
"Armenia does not want to withdraw its illegal formations from Karabakh and delimit the border. Therefore, it prefers the way of minor provocations and shelling. Besides, Armenia harbours unjustified hopes that due to its chairmanship at the CSTO (Collective Security Treaty Organization), it will be able to receive help from this organization," Mr Korotchenko told the "Caucasian Knot" correspondent.
The shelling intensification and the expansion of geography thereof indicate the Armenia's desire to aggravate the conflict, and again involve the OSCE Minsk Group therein, and, thus, to return to long unsuccessful negotiations, Telman Abilov, the head of the Azerbaijani NGO "Military Lawyers", believes.
However, in general, the current shooting differs from what took place before the fall of 2020, Mr Abilov has added.
"Then, escalation during periods, they used not only machine and submachine guns, but also grenade launchers, mortars and heavy artillery, howitzers, and even conducted missile attacks. Now, they deliver fire mainly from submachine and machine guns. I think that Armenia understands that if they use heavy weapons, then, the Azerbaijani Army, which is better equipped with precision weapons, will give a more crushing response," Telman Abilov has concluded.
This article was originally published on the Russian page of 24/7 Internet agency 'Caucasian Knot' on August 21, 2021 at 06:29 pm MSK. To access the full text of the article, click here.
Author: Tigran Petrosyan, Faik Medzhid, Semyon Charny Source: CK correspondents