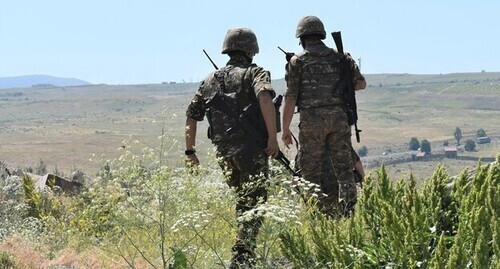 24 August 2021, 15:44
Analysts assess likelihood of attracting foreign peacemakers to Karabakh conflict zone
The parties to the Karabakh conflict are interested in attracting, apart from Russian peacemakers, those from other countries: Baku – from Turkey; Yerevan – from Western countries, in particular, from France. However, this will require consents of both parties in conflict and Moscow, experts believe.
The "Caucasian Knot" has reported that Armenia and Azerbaijan are regularly exchange accusations of shelling at the border. According to military experts, shelling on the contact line has become as regular as before the autumn war of 2020.
Pavel Felgengauer, a military observer of the "Novaya Gazeta", believes that Armenia would not mind if Western peacemakers appeared in Nagorno-Karabakh.
Baku is preparing grounds for the withdrawal of Russian peacemakers from the territory of Karabakh, Vasily Dandykin, an expert, has suggests. In his opinion, Azerbaijan is interested to have Turkish peacemakers next to Russian ones.
Mr Dandykin also predicts that Russian peacemakers will stay in Karabakh for a long time.
Baku is sending a message that Russian peacemakers fail to cope with their duties, Vladimir Evseev, a military expert, has noted. According to his story, if Russian peacemakers suffer as a result of ceasefire violations in Karabakh, it is fraught with a conflict with Moscow.
This article was originally published on the Russian page of 24/7 Internet agency 'Caucasian Knot' on August 24, 2021 at 03:12 am MSK. To access the full text of the article, click here.
Author: Gor Alexanyan Source: CK correspondent