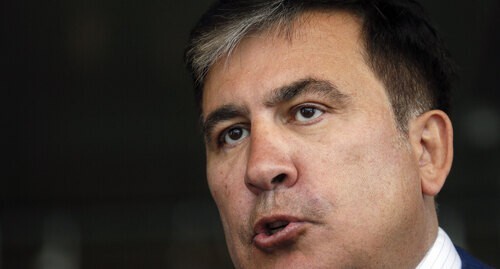 01 October 2021, 14:03
Saakashvili announces his participation in voting at elections
Mikheil (Mikhail) Saakashvili has released a video message filmed amid streets of Batumi, again calling on his supporters to vote at the municipal elections, and the next day to march in columns towards Tbilisi. The politician has stressed that on October 2, he intends to personally take part in the voting at a polling station.
The "Caucasian Knot" has reported that today Mikhail Saakashvili, a former president of Georgia, has announced, in his Facebook page, that he had already returned to the country. Later, he posted a video, in which he stated that he was in Batumi, and urged his supporters to go to the polls on October 2, and on October 3 to march to the centre of Tbilisi.
In Georgia, Mikhail Saakashvili was sentenced in absentia to three years of imprisonment in a case on abuse of power when pardoning those convicted for the murder of businessman Sandro Girgvliani and to six years of imprisonment in a case on the 2005 beating of MP Valery Gelashvili. The former president of Georgia also faces other charges.
The former president has called on his supporters to move "in columns to Tbilisi" on October 3, the "Batumelebi" reports. "From the morning of October 3, from all over Georgia, we must move in columns to Tbilisi to defend the election results. I will join such a column. I ask that the columns be numerous so that they cannot stop me. If [...] the government manages to arrest me, this should strengthen us even more. In both cases, I will not retreat. I hope you won't too," the "Batumelebi" quotes the politician as saying.
Saakashvili has also assured that on October 2, he will come to a polling station and take part in the voting, the "JAMnews" reports.
This article was originally published on the Russian page of 24/7 Internet agency 'Caucasian Knot' on October 1, 2021 at 11:13 am MSK. To access the full text of the article, click here.
Author: The Caucasian Knot