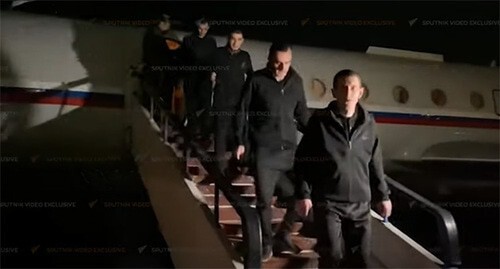 20 October 2021, 14:41
Five Armenian POWs returned home
Azerbaijan has handed over to Armenia five prisoners of war (POWs) who had been sentenced in Baku to six years in prison; they were sent from the airport to the medical centre. The father of one of the missing servicemen has called for a protest action near the building of the Armenian Government on October 20.
The "Caucasian Knot" has reported that in July a court in Baku sentenced 39 Armenian POWs to six years in prison each. On September 7, two militaries taken POWs near the Black Lake in the Syunik Region returned to Armenia from Azerbaijan; and one POW detained in Nagorno-Karabakh was brought to Baku from Yerevan.
The "News.Am" has specified that the names of the Armenian returnees are Mels Ambardanyan, Rafik Karapetyan, Zhora Manukyan, Ovsep Manukyan and Sedrak Sogomonyan.
The father of the 25-year-old volunteer, Karo Mazmanyan, told that there had been no news from his son for over a year, that is, since October 2020, and since that time he knew nothing about his son's fate.
On October 18, relatives of the missing servicemen met Arshak Karapetyan, the head of the Armenian Ministry of Defence (MoD), who assured them that Baku would return many of the POWs. "But it turned out that there are only five of them. How long can they mock at us? They promised to return 15-17 people, but only five were really returned," Mr Mazmanyan has stated.
This article was originally published on the Russian page of 24/7 Internet agency 'Caucasian Knot' on October 19, 2021 at 08:10 pm MSK. To access the full text of the article, click here.
Author: Armine Martirosyan Source: CK correspondent