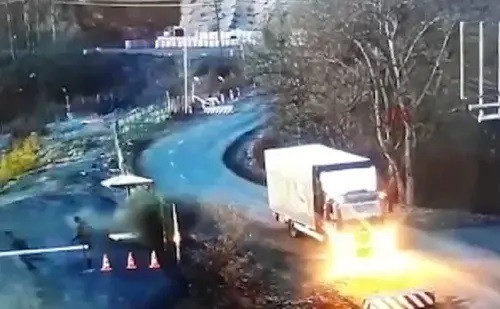 13 November 2021, 15:47
Nagorno-Karabakh resident detained after explosion at checkpoint near Shushi
In Nagorno-Karabakh, Russian peacemakers have detained a local resident who threw a grenade at Azerbaijani militaries at a checkpoint near the city of Shushi, sources have reported. The authorities of the unrecognized republic have announced the start of an inquiry into the incident.
This morning, the Ministry of Internal Affairs (MIA) of Nagorno-Karabakh has announced the closure of traffic on the Stepanakert-Berdzor highway due to an incident between the Armenian and Azerbaijani parties. According to sources, a local resident threw a grenade at Azerbaijani soldiers in Shushi (the Azerbaijani name is Shusha, – note of the "Caucasian Knot"), after which they opened fire in response.
Law enforcement bodies of Nagorno-Karabakh, together with Russian peacemakers, are conducting operative-search and criminal-procedural actions aimed at clarifying the circumstances of the incident near the city of Shushi, the Nagorno-Karabakh's National Security Service (NSS) has reported today.
As a result of the incident, there were no victims among Nagorno-Karabakh residents, the NSS has added.
Peacemakers have detained the resident of Nagorno-Karabakh who had thrown a grenade at Azerbaijani militaries at the checkpoint located near the village of Dashalty in the vicinity of Shusha, the "Trend.az" has reported today.
This article was originally published on the Russian page of 24/7 Internet agency 'Caucasian Knot' on November 13, 2021 at 12:13 pm MSK. To access the full text of the article, click here.
Author: Alvard Grigoryan Source: CK correspondent