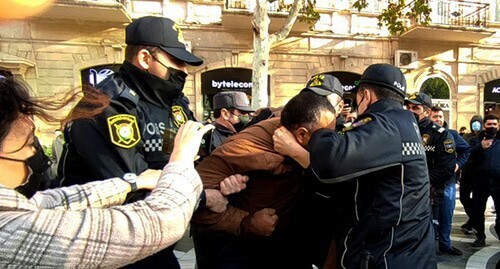 05 December 2021, 11:59
Azerbaijani oppositionist Yagublu doubts objectivity of inquiry into his beating by law enforcers
The Azerbaijani Prosecutor's Office has launched an investigation into the complaint of Tofig Yagublu, an oppositional politician, about beating him up by law enforcers. On December 3, he was questioned as a witness. However, Yagublu does not believe in the objectivity of the investigation and states that his complaint is related to the need to comply with the procedures for applying to the European Court of Human Rights (ECtHR).
The "Caucasian Knot" has reported that on December 1, the police disrupted an action in defence of the activist, Salekh Rustamov. About 40 people were detained, including Tofig Yagublu, a member of the National Council of Democratic Forces (NCDF) of Azerbaijan. He claims that law enforcers had severely beaten him up while in custody.
The Public Council under the Ministry of Internal Affairs (MIA) of Azerbaijan has appealed to the MIA about the situation with the detainees at the action, Alimamed Nuriev, the chairman of the Council wrote on the Facebook.
Tofig Yagublu treats the Public Council's appeal as the "imitation" of the investigation. Thus, authorities claim their innocence, he has stated. According to his version, the situation is controlled by the head of Azerbaijan, Ilham Aliev.
The British Embassy ton Baku has called on Azerbaijani authorities to investigate the beating of Yagublu.
An inquiry into Yagublu's beating was also demanded by the international human rights organization "Human Rights Watch".
This article was originally published on the Russian page of 24/7 Internet agency 'Caucasian Knot' on December 4, 2021 at 12:59 pm MSK. To access the full text of the article, click here.
Author: Faik Medjid Source: CK correspondent