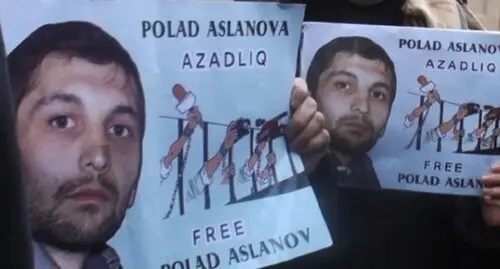 18 January 2022, 18:23
CPJ calls on Azerbaijan's authorities to release Polad Aslanov
The New York-based International Committee to Protect Journalists expresses concern about the health state of Polad Aslanov, the editor of the "xeberman.com", who is on a hunger strike in custody. The human rights defenders call on the Azerbaijan's authorities to release the journalist.
The "Caucasian Knot" has reported that on January 17, Gyulmira Aslanova, a spouse of Polad Aslanov, went to a picket in front of the building of the General Prosecutor's Office of Azerbaijan. The picketer demanded a meeting with the General Prosecutor, but the police pushed her away from the entrance to the building and later detained her. However, an hour later, Gyulmira Aslanova was released. On the same day, the spouse of Polad Aslanov reported that her husband's condition had worsened.
On January 6, Polad Aslanov, the editor-in-chief of the Azerbaijani Internet outlets Xeberman.com and Press-az.com, went on a hunger strike demanding a review of his case.
The Committee to Protect Journalists (CPJ) expressed concern about the health state of Polad Aslanov, who is on a long hunger strike in custody. On the 12th day of the hunger strike, the journalist's weight dropped to 42 kg. Polad Aslanov is holding his hunger strike in protest against the unfair sentence and the nine-month delay in the consideration of the complaint in the Supreme Court (SC), the CPJ reports with reference to Gyulmira Aslanova, a spouse of the imprisoned journalist.
"The authorities of Azerbaijan should immediately release journalist Polad Aslanov and not contest his complaint," said Gulnoza Said, the CPJ's Europe and Central Asia programme coordinator.
This article was originally published on the Russian page of 24/7 Internet agency 'Caucasian Knot' on January 18, 2022 at 12:30 pm MSK. To access the full text of the article, click here.
Author: Faik Medjid Source: CK correspondent