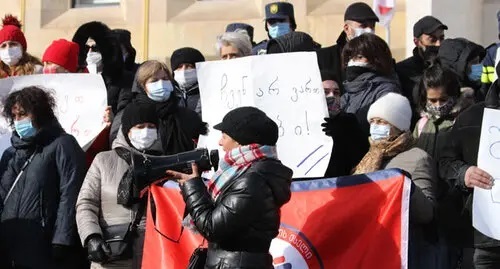 21 January 2022, 12:13
Striking social workers demand meeting with Georgian Prime Minister
In Tbilisi, the striking employees of the Social Security Agency demand a meeting with Irakli Garibashvili, the country's Premier, to discuss the issue of raising their salaries.
The "Caucasian Knot" has reported that on January 17 social workers went on a strike, claiming that their salaries had not been increased for 13-15 years.
On January 20, at a protest in Tbilisi, the strikers demanded a meeting with Irakli Garibashvili in order to discuss their demand for salary increase. Social workers' salaries have not been reviewed since 2007 and are around 600 laris (USD 193.5) per month, but after paying taxes, they receive 480 laris (USD 154.8).
Social workers also demand from the state to insure their health.
One of the protesters told the "Caucasian Knot" correspondent that during the first years of her work at the agency, her salary was enough, but later it became too small, especially in the last few years, when everything in the country had risen in price, including consumer tariffs for electricity.
Teya Narimanishvili, a social worker in Tbilisi, has complained that she receives threats from the agency – promises to fire her if she does not stop protests and speeches at them.
This article was originally published on the Russian page of 24/7 Internet agency 'Caucasian Knot' on January 21, 2022 at 04:40 am MSK. To access the full text of the article, click here.
Author: Inna Kukudzhanova Source: CK correspondent