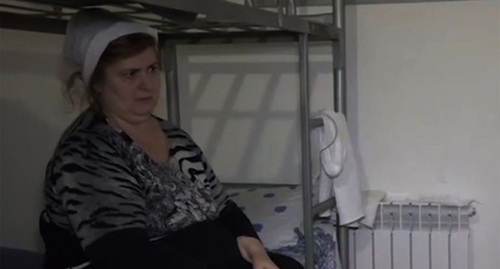 11 February 2022, 00:17
Chechen SC ignores Musaeva's deteriorating health
Advocates requested the court to transfer Zarema Musaeva to house arrest due to her state of health, but the court dismissed the request, although an ambulance was called again at night, advocate Arkady Shindyapin said. Abubakar Yangulbaev, a son of Zarema Musaeva, notes that the court is under pressure.
The "Caucasian Knot" has reported that on January 20, Zarema Musaeva, a spouse of retired federal judge Saidi Yangulbaev, was forcibly taken to Grozny and arrested on the charge of assaulting a law enforcer. Today, the Supreme Court (SC) of Chechnya has considered a complaint of the defence against the arrest of Zarema Musaeva and refused to grant it.
Read the "Caucasian Knot" reference material "How Yangulbaevs became Kadyrov's enemies" to find how the conflict began, what accusations Ramzan Kadyrov voiced, what the Yangulbaev family answered the leader of Chechnya, and what role in the development of the situation was played by an opposition Telegram channel.
The defence requested the court to release Zarema Musaeva under house arrest, says Arkady Shindyapin, a lawyer of the "Committee Against Torture"*. "The main argument was the state of her health. There is a conclusion that she suffers from diabetes," the lawyer said.
Zarema Musaeva's son Abubakar Yangulbaev, a former lawyer of the "Committee Against Torture"*, believes the decision of the Supreme Court of Chechnya is unfounded. "The court and the investigating authorities are under direct pressure from Ramzan Kadyrov," Abubakar Yangulbaev said.
According to him, the case is a personal order of the leader of Chechnya.
* The "Committee Against Torture" (CaT) was included by the Ministry of Justice (MoJ) of Russia in the register of NCOs-foreign agents in 2015. In this regard, leaders liquidated the organization and created a new legal entity: the "Committee for the Prevention of Torture", which was also included in the list of foreign agents, and the organization was closed. At present, the "Committee Against Torture" operates as an unregistered public association.
This article was originally published on the Russian page of 24/7 Internet agency 'Caucasian Knot' on February 10, 2022 at 03:39 pm MSK. To access the full text of the article, click here.
Author: Roman Kuzhev Source: CK correspondent