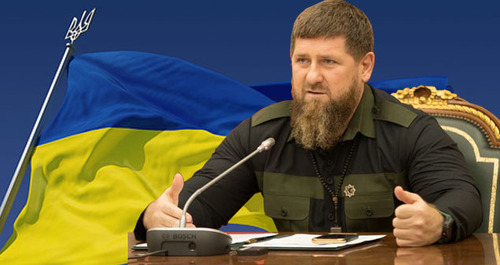 14 February 2022, 21:13
Kadyrov softens his rhetoric on Ukraine after Kremlin's remarks
Today, Chechen leader Ramzan Kadyrov has issued a new statement on Ukraine and significantly softened the tone of his statements in comparison with his previous words about the need to "take back Ukraine," to which the Kremlin reacted.
The "Caucasian Knot" has reported that in December 2021, at a press conference, the leader of Chechnya said that the Ukrainian issue was his level and that if he had been instructed, he would have long ago "joined Ukraine to the Chechen Republic or would have taken Ukraine long ago."
Today, the leader of Chechnya has posted a statement on Ukraine in his accounts on the social media VKontakte, Instagram, and Telegram, in which he noticeably softened his rhetoric and tone of statements. At the beginning, Ramzan Kadyrov emphasized that he was expressing his personal opinion only.
Ramzan Kadyrov called on Ukrainian President Volodymyr Zelensky to be prudent. "Today, more than ever, there is a need to implement the Minsk agreements, which are signed not only by the President of Russia, but also by the President of Ukraine. The strict implementation of the provisions prescribed in the Minsk agreements is the first important step in the political settlement of the growing confrontation. In this regard, you, as the guarantor of the constitution and the security of your people and state, are simply obliged to do everything in your power to avoid bloodshed and establish peace. President Vladimir Putin and the peoples of Russia do not want war, as we know firsthand the meaning of this terrible word. Be prudent, Mr. Zelensky!" emphasized Ramzan Kadyrov.
This article was originally published on the Russian page of 24/7 Internet agency 'Caucasian Knot' on February 14, 2022 at 06:20 pm MSK. To access the full text of the article, click here.
Author: The Caucasian Knot