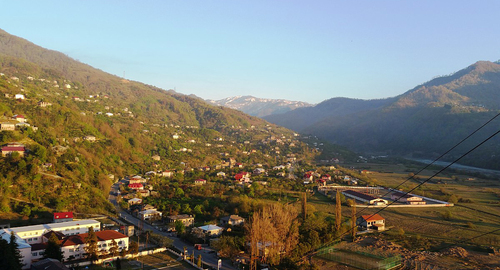 16 February 2022, 17:43
Historians report about search for remains of victims of Stalinist terror in Khelvachauri
Signs on the remains from a mass grave in Khelvachauri indicate that they belong to victims of the Stalinist repressions, scientists point out. Among the victims of terror in Adzharia were not only Georgians, but also Abkhazians, Russians, Germans, and Poles.
Starting from January 24, employees of the Polish Institute of National Remembrance (IPN, Instytut Pamięci Narodowej) have been excavating and examining the remains in the mass grave No. 6 of victims of mass terror in Adjara in the village of Gonio in the Khelvachauri municipality. This was learned by the "Caucasian Knot" correspondent from Anton Vacharadze, the head of the excavations from the Institute for Development of Freedom of Information (IDFI).
As a result of the excavations, the remains of 29 people were found. The number of the remains coincides with the number of those repressed under the Act on the execution of the sentence of March 15, 1938.
According to Anton Vacharadze, the remains of the victims were found with their hands tied behind their backs, with a gunshot wound in the skull: the exact same hole as in the skulls of people shot dead in other republics during the Great Terror.
According to a study conducted by the IDFI in the archives, in total, 1050 people were shot dead in Adjara in 1937-1938 as a result of various punitive operations. In addition to Georgians, the number of the repressed people also includes Germans, Armenians, Russians, Poles, Abkhazians, and other nationalities born in different parts of the Russian Empire and living in Batumi and Adjara.
This article was originally published on the Russian page of 24/7 Internet agency 'Caucasian Knot' on February 16, 2022 at 08:40 am MSK. To access the full text of the article, click here.
Author: Galina Gotua Source: CK correspondent