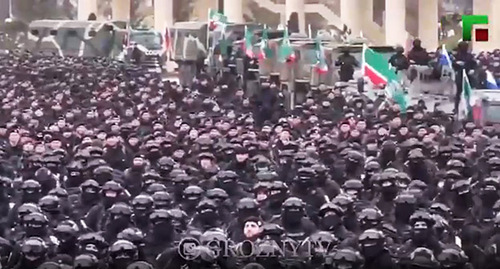 25 February 2022, 23:52
Ramzan Kadyrov expresses his readiness to send fighters to Ukraine
Vladimir Zelensky, before he became the former president of Ukraine, should apologize to Vladimir Putin for the military conflict, states Ramzan Kadyrov. Today, the leader of Chechnya has gathered about 12,000 Chechen law enforcers and militaries on a square in Grozny.
The "Caucasian Knot" has reported that social media disseminated rumours that Ramzan Kadyrov had arrived in the territory of Ukraine or Donbass. Information about the presence of Chechen fighters in Ukraine looks reliable: they may be entrusted either to participate in an assault on Kiev or to play the role of the military police, experts suggest.
Today, in Grozny, the combat readiness of the personnel of the law enforcement bodies of Chechnya has been checked, and more than 12,000 military personnel have taken part in the inspection, the "Grozny" TV Company reports.
About 70,000 law enforcers from Chechnya are ready to voluntarily go to Ukraine, Ramzan Kadyrov has stated as quoted by the TASS.
The leader of Chechnya has noted that so far no decisions on the transfer of the law enforcers have been made.
This article was originally published on the Russian page of 24/7 Internet agency 'Caucasian Knot' on February 25, 2021 at 03:48 pm MSK. To access the full text of the article, click here.
Source: Caucasian Knot