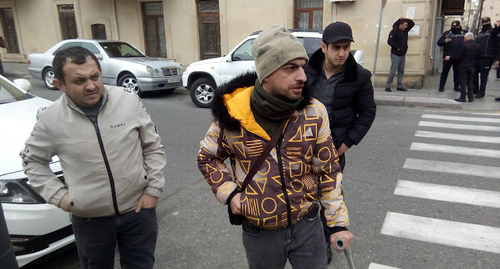 01 March 2022, 13:31
By protest action, veterans in Baku achieve GPO's reaction
On February 28, several veterans of the Karabakh war held a protest action in front of the building of the Azerbaijani General Prosecutor's Office (GPO), demanding to punish law enforcers for beating up the participants in the Karabakh conflict.
Ruslan Mamedov, one of the protesters, said that on January 11, several policemen had lunch in one of the cafés rented by veterans and invalids of the Karabakh war. The policemen left the café without paying for their lunch. The café tenants demanded the payment; the dispute escalated into a brawl. In the evening of the same day, the tenants were taken away from their homes by the police, who accused them of violating the requirements of the work of public catering places during the pandemic. The detainees were beaten up at the police station. "We don't want anything for ourselves; our only demand is to punish the perpetrators according to the law," Mr Mamedov told the "Caucasian Knot" correspondent.
Policemen were present at the protest venue, but they did not interfere with the protesters. Later, the protesters were invited to the GPO. "The head of the division for receiving applications promised the war veterans a fair consideration of their complaint," Ruslan Mamedov has added.
This article was originally published on the Russian page of 24/7 Internet agency 'Caucasian Knot' on March 1, 2022 at 09:36 am MSK. To access the full text of the article, click here.
Author: Kyamal Ali Source: CK correspondent