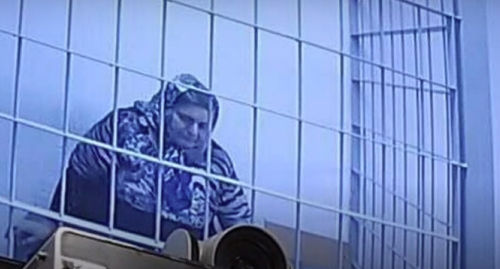 15 March 2022, 11:18
PO supports law enforcers in Zarema Musaeva's abduction case
In Grozny, the Prosecutor's Office (PO) has found no violations in the actions of the law enforcers who had forcibly taken Zarema Musaeva from her home in Nizhny Novgorod, the "Committee against Torture" (CaT)* has informed.
The "Caucasian Knot" has reported that on January 20, 2022, Zarema Musaeva, the wife of the retired Russian federal judge, Saidi Yangulbaev, was forcibly taken away by Chechen law enforcers from her apartment in Nizhny Novgorod to Grozny, after which the head of Chechnya, Ramzan Kadyrov, stated that the Yangulbaev family were waiting for a place "in prison or under the ground."
The PO of the Akhmat District of Grozny has found that Musaeva's forced delivery to Chechnya from Nizhny Novgorod was legitimate, the CaT* has reported today with reference to the PO's decision.
In total, after Musaeva's abduction, the CaT's lawyers have filed 10 petitions, 21 complaints, 11 appeals, two requests and seven applications against law enforcers' actions, which brought no fruits, the CaT* has declared in its statement sent to the "Caucasian Knot".
In particular, the CaT's lawyers have received no answers to the petitions submitted to the Nizhny Novgorod branch of the Investigating Committee of the Russian Federation (ICRF) demanding to conduct inspections – investigators have redirected all the petitions to the Chechen PO.
"The redirection of applications about abuse of power by Chechen policemen to Chechnya was an unpleasant and, alas, expected event. Therefore, we filed a separate application about the crime, where we focused on the violation of the inviolability of the federal judge's home. The location of the crime obliges investigators to conduct a check here, in Nizhny Novgorod," Sergey Shunin, a lawyer of the CaT*, has stated, adding that however the lawyers have faced law enforcers' inaction, which will be appealed against.
* The "Committee Against Torture" (CaT) was included by the Ministry of Justice (MoJ) of Russia in the register of NCOs-foreign agents in 2015. In this regard, leaders liquidated the organization and created a new legal entity: the "Committee for the Prevention of Torture", which was also included in the list of foreign agents, and the organization was closed. At present, the "Committee Against Torture" operates as an unregistered public association.
This article was originally published on the Russian page of 24/7 Internet agency 'Caucasian Knot' on March 15, 2022 at 00:10 am MSK. To access the full text of the article, click here.
Author: The Caucasian Knot