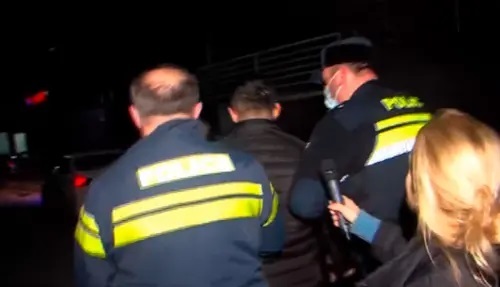 19 March 2022, 12:43
Opposition journalists attacked in Georgia
A cameraman and journalists of the "Mtavari Arkhi" TV Channel were attacked in Zugdidi while trying to film a report; and a film crew of the "Formula" TV Channel was beaten up in Tbilisi.
Late in the evening on March 17, the "Mtavari Arkhi" filming team was attacked in Zugdidi by supporters of the "Alt-Info", Emma Gogokhiya a journalist of the TV Channel, has informed.
The "Alt-Info" is an ultra-conservative and nationalistic Internet platform. In November 2021, they held a congress in Tbilisi and set up their own party, which they entitled as the "Conservative Movement".
Ms Gogokhiya told live on air that she and the cameraman, Zviad Ablotiya, were attacked when they were filming how the city cleaning service removed Ukrainian symbols from the door of the "Alt-Info" office. The journalists were attacked by 15 people, Emma has added, whose words were translated by the "Caucasian Knot" correspondent.
"Four attackers have been detained," the journalist said, expressing her fear that they would be released and continue attacking media professionals.
The filming team of the "Formula" TV Channel was also attacked in the evening on March 17, while filming an interview in a café located in Irakli Abashidze Street in Vake, a Tbilisi neighbourhood. Nano Chakvetadze, a "Formula" correspondent, told on air that the film team was going to record an interview in this café on agreement with its administration, but during the interview, one of the guests behaved aggressively.
Ms Chakvetadze said that as a result, the cameramen were beaten up; and she herself received bodily injuries – this was recorded by doctors.
One person was detained on suspicion of attacking the journalists.
This article was originally published on the Russian page of 24/7 Internet agency 'Caucasian Knot' on March 19, 2022 at 00:33 am MSK. To access the full text of the article, click here.
Author: Galina Gotua Source: CK correspondent