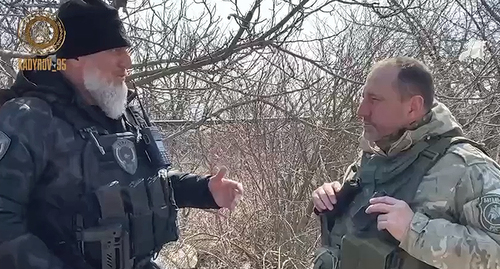 22 March 2022, 14:03
Khodakovsky explains his words about Chechen law enforcers to Delimkhanov
Alexander Khodakovsky, the commander of the "Vostok" (East) battalion of the Ministry of Internal Affairs (MIA) of the Donetsk People's Republic (DPR), has explained to Adam Delimkhanov, an adviser to the head of Chechnya, Ramzan Kadyrov, that his criticism of the Chechen law enforcers who had arrived in Ukraine was caused by his first impression.
The "Caucasian Knot" has reported that on March 16, commander Khodakovsky criticized the Chechen fighters for their poor training and low preparedness for the war.
Chechen fighters of the "Rosgvardiya" (Russian National Guard) differ from ordinary law enforcers in the level of their training, but it is still not enough to participate in hostilities, since the experience of fighting terrorism in the Caucasus is not applicable in the special operation in Ukraine, experts have noted. At the same time, Pavel Felgengauer, an analyst, had doubted the objectivity of Khodakovsky's words.
What is really known about the participation of Chechen law enforcers, about their losses and statements of the republic's leadership, – read the details in the reference material of the "Caucasian Knot".
Adam Delimkhanov, an advisor to the head of Chechnya, has met Alexander Khodakovsky, the commander of the "Vostok" battalion, Ramzan Kadyrov has informed, specifying that the meeting took place in Mariupol, where Chechen fighters, together with militaries from Russia and the DPR, are "successfully advancing deep into" the city.
"The battalion commander has explained himself for his careless words about the Chechen fighters participating in the special operation in Ukraine. It turned out that he had built his assumptions on false information. But now, having seen our fighters in battle, Khodakovsky got convinced of their high professionalism," the head of Chechnya wrote in his Telegram channel.
Let us remind you that on March 14, Kadyrov confirmed that he himself had visited Ukraine, and that the previously posted video about his stay in the special operation zone was filmed in the Kiev Region. Caucasian experts have asserted that the publication of videos about Kadyrov's and Delimkhanov's travels to Ukraine were pure propaganda elements.
This article was originally published on the Russian page of 24/7 Internet agency 'Caucasian Knot' on March 22, 2022 at 10:14 am MSK. To access the full text of the article, click here.
Source: Caucasian Knot