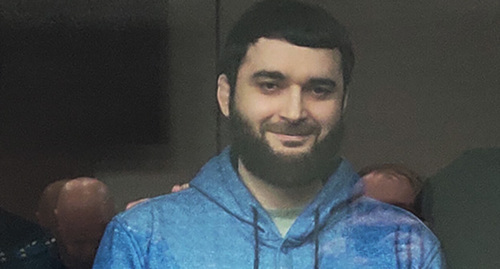 30 April 2022, 17:36
"Chernovik" managers refute charges against Abdulmumin Gadjiev
At the court session on the case of Abdulmumin Gadjiev, Magdi Kamalov, the founder of the "Chernovik" (Draft) portal, has stated that the interview with the preacher, who was put on the wanted list on charges of terrorism, was made by Gadjiev on his instruction.
The "Caucasian Knot" has reported that Abdulmumin Gadjiev, a "Chernovik" journalist, as well as Abubakar Rizvanov, the head of the "Ansar" Charity Fund, and Kemal Tambiev, are accused of financing terrorism.
Investigators link the defendants with the Dagestan preacher and founder of the "Mukhadjirun" Islamic Fund, known as Abu Umar Sasitlinsky (Israil Akhmednabiev), who has been put on the wanted list within a terrorism case.
On April 29, at the court session that considered Abdulmumin Gadjiev's case, Mairbek Agaev, the editor-in-chief, and Magdi Kamalov, the founder of the "Chernovik", were interrogated.
Mairbek Agaev described Gadjiev as a "well-mannered and a very disciplined" employee.
When asked by the advocate whether Gadjiev had offered to publish articles about the activities of Israil Akhmednabiev, Agaev noted that this had never happened under him. He also explained that, as he remembered, Gadjiev had never spoken about Akhmednabiev, and had never heard Gadjiev giving any feedback about Akhmednabiev.
Magdi Kamalov, the founder of the portal, was interrogated as the second defence witness.
When asked by the advocate whether Israil Akhmednabiev had ever met with Gadjiev, Kamalov noted that in 2013 Kamalov gave an editorial task to Gadjiev to interview Akhmednabiev.
According to Kamalov, he, as the top manager of the portal, understood that the interview with the preacher would be of interest to a wide range of "Chernovik" readers. "At that time, Akhmednabiev was not searched; and there were no claims against him from law enforcement bodies. I understood that [the interview with Akhmednabiev] would be interesting to the audience," Mr Kamalov has stated.
This article was originally published on the Russian page of 24/7 Internet agency 'Caucasian Knot' on April 30, 2022 at 04:23 am MSK. To access the full text of the article, click here.
Source: CK correspondent