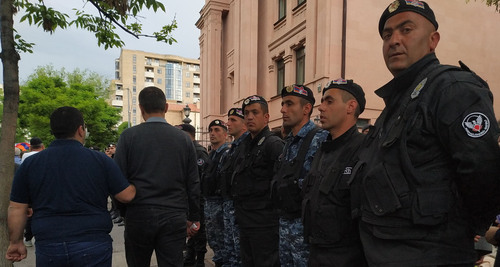 13 May 2022, 08:42
Armenian analysts name opposition's tactical mistakes
The protest movement has reached its peak and is acting by inertia, as the opposition leaders failed to increase the number of supporters and correctly use the methods of influencing the incumbent government, Armen Badalyan, a political strategist, has stated. The opposition cannot guarantee a change of the political course, even if it comes to power, Andrias Gukasyan, a political analyst, has pointed out.
The "Caucasian Knot" has reported that since April 25, the Armenian opposition has been holding rallies, marches and motor rallies, demanding not to admit a change of the status of Nagorno-Karabakh and resignation of Nikol Pashinyan's government. Thus, on May 11, the "Resistance" opposition movement organized several motor rallies in Yerevan, and their participants called on city residents to come to a rally demanding the resignation of the Armenian Prime Minister. Fifteen activists were detained for failure to obey the police.
Armen Badalyan noted that organizers of the protests would not use the targeted technologies to attract new supporters, for example, students and representatives of small and medium-sized businesses. "Socio-economic problems related to or associated with security issues, which the protest movement has proclaimed as its main vector, are not used. This explains the inertia of the protest movement. If this situation drags on, the protest movement will decline," the political strategist has emphasized.
"Another tactical mistake is the wrong strategy of blocking streets, which need to be blocked not for an hour in central Yerevan, but throughout the city (...) for the whole day. It is also unclear why the metro is not blocked?" Mr Badalyan has asked.
The parliamentary opposition has no political opportunity to organize and implement efficient steps that will make the protest movement successful, Andrias Gukasyan, a political analyst, told the "Caucasian Knot" correspondent.
Andrias Gukasyan has added that the opposition cannot provide guarantees for a change in political course. "We need a thesis – a clear and understandable one – that in case of victory, regardless of who comes to power, the issue that worries the society will be resolved. Only their party members can believe that Robert Kocharyan or Serzh Sargsyan are able to protect Artsakh (the self-name of Nagorno-Karabakh, – note of the "Caucasian Knot") and return Gadrut and Shushi. The assurances, "give us power, and we'll do better than Pashinyan," inspire no confidence. Guarantees are needed that in the event of a change of power, the political course will also be changed," Mr Gukasyan has explained.
This article was originally published on the Russian page of 24/7 Internet agency 'Caucasian Knot' on May 12, 2022 at 09:30 pm MSK. To access the full text of the article, click here.
Author: Tigran Petrosyan Source: CK correspondent