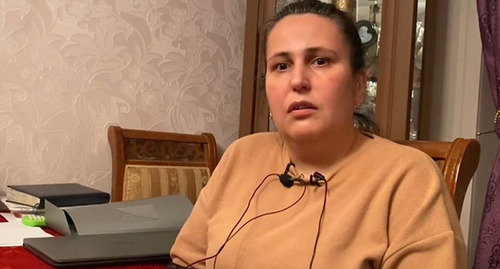 14 May 2022, 08:55
Attack on Mamedova confirms authorities' interest in Suleimanov's case
The court failed to receive any proofs of Ilkin Suleimanov's guilt in the murder of a ten-year-old girl; and his allegations of torture were considered only formally, his advocate, Alibaba Rzaev, has stated.
The "Caucasian Knot" has reported that on May 9, the Azerbaijani police launched an inquiry into the attack on the journalist, Aiten Mamedova. The incident took place in the Binagadi District of Baku. The man who followed Aiten Mamedova into the elevator in the house put a knife to her throat and demanded from her not to cover the trial, after which he disappeared. Ms Mamedova has linked the attack with her coverage of the high-profile case of the murder of a child, in which Ilkin Suleimanov is accused.
Alibaba Rzaev, a Suleimanov's advocate has also associated the attack on Mamedova with her publications about the trial involving his client. According to the advocate, the attack on Aiten speaks in favour of the defence's version that some influential forces at the top are interested in hiding the true culprit of the crime and want to force the media not to cover the trial in a way that they do not like.
According to the advocate, at the investigation stage, the General Prosecutor's Office (GPO) considered the advocates' complaint about the torture applied to Suleimanov. "In the presence of three advocates, Ilkin was undressed; and despite the two weeks that had passed since the torture, traces of violence were visible on his body. The GPO recorded Suleimanov's testimony. Then, they listened to policemen's testimonies, who denied the accusations of using torture. I believe that it was an imitation of the consideration of a torture complaint," Mr Rzaev has stated.
He has added that in the course of the trial, Suleimanov and his advocates claimed torture, but the court refused to run a separate inquiry into the torture.
This article was originally published on the Russian page of 24/7 Internet agency 'Caucasian Knot' on May 13, 2022 at 10:05 pm MSK. To access the full text of the article, click here.
Author: Kyamal Ali Source: CK correspondent