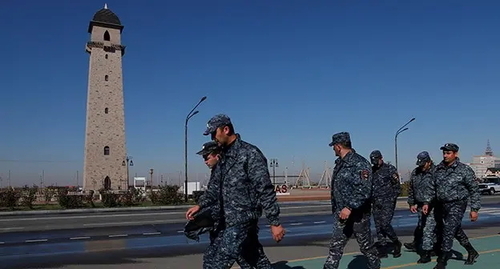 14 May 2022, 11:36
Law enforcers refuse to plead guilty of non-fulfilment order at rally in Magas
At trial, the policemen charged with disobeying the order to disperse protesters in Magas in 2019 have refused to plead guilty. Their advocate claims that their actions at the rally made it possible to avoid serious consequences.
The "Caucasian Knot" has reported that the Zheleznovodsk City Court began considering the case of 12 policemen accused of non-fulfilment the order to disperse protesters in Magas in 2019.
On May 12, the first court session on the case was held. According to Visit Tsoroev, the defendants advocate, at the first session, the prosecutor read out the indictment. "According to the prosecution, in the morning on March 27, 2019, my clients received a verbal order to stand in a cordon, but they failed to fulfil it and went out to protesters, sharing their political hostility and providing them with moral and physical support, which allowed them to continue committing unlawful actions," Mr Tsoroev has explained.
The advocate has stressed that failure to follow an order is not always a criminal offense. "For it to be such, grave consequences must occur [...]. However, my clients' actions, on the contrary, resulted in non-occurrence of such consequences. They stood in a cordon when two skirmishes had already happened, and it was expected that there would be the third, a tougher one," Mr Tsoroev has stated.
"As a result of my clients' actions, and the fact that they tried to talk to protesters, the latter left the square," the advocate has stressed.
Visit Tsoroev has noted that after the announcement of the indictment, the advocate and the defendants were given the right to respond to the charges; and all the 12 defendants refused to plead guilty. "
This article was originally published on the Russian page of 24/7 Internet agency 'Caucasian Knot' on May 14, 2022 at 01:30 am MSK. To access the full text of the article, click here.
Author: Alena Sadovskaya Source: CK correspondent