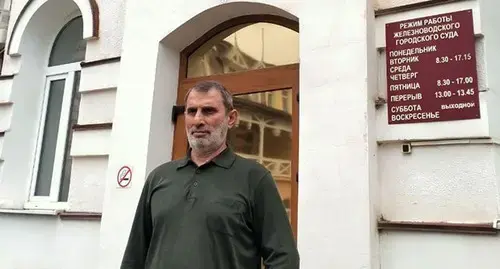 16 June 2022, 12:02
Court commutes verdict to Ingush activist Myakiev
The court has found Ingush activist, Bagaudin Myakiev, guilty of using violence against "Rosgvardiya" (Russian National Guard) fighters at a rally in Magas and sentenced him to 1.5 years in prison. Myakiev has already served four months more within his case and can claim compensation, his advocate asserts.
The "Caucasian Knot" has reported that on February 20, 2020, Myakiev was sentenced to 1.75 years in prison. The activist admitted that at the rally he threw chairs in the direction of law enforcers, but stated that he did not aim at them. On August 27, 2020, he was released due to the completion of his prison term.
On June 15, the court found Myakiev guilty of using violence, not dangerous to life and health, against "Rosgvardiya" fighters at the rally in Magas on March 27, 2019. The judge saw a political motive in Myakiev's actions and sentenced him to 1.5 years, the team of the former Human Rights Centre (HRC) "Memorial"** reported on its Telegram channel.
Since Myakiev had earlier been sentenced under this case to one year and ten months in prison and had served the verdict, the new sentence is formal and does not provide for his detention, human rights defenders have noted.
However, it turns out that Myakiev spent extra four months in prison, and can claim compensation of his moral harm, Magomed Aushev, an advocate, believes.
This article was originally published on the Russian page of 24/7 Internet agency 'Caucasian Knot' on June 15, 2022 at 11:05 pm MSK. To access the full text of the article, click here.
Source: Caucasian Knot