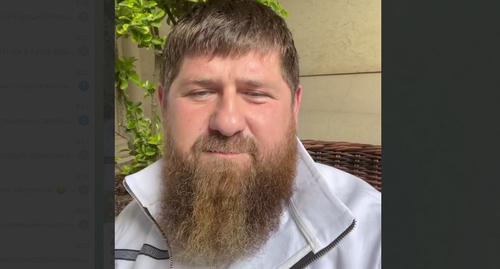 22 June 2022, 14:04
Kadyrov reacts to reproaches for criticizing Kazakh president
The criticism of the president of Kazakhstan and other leaders of the CSTO (Collective Security Treaty Organization) member countries was addressed exclusively to politicians, but not to the Kazakh people, Ramzan Kadyrov has assured after reminders about Kazakh support to deported Chechens.
The "Caucasian Knot" has reported that on June 18, Ramzan Kadyrov reacted to the statement of the President of Kazakhstan and criticized the leaders of the Collective Security Treaty Organization (CSTO) member countries, who did not express a clear position on the special military operation in Ukraine. The CSTO members received support from Russia, in particular, Kazakhstan received during protests in January 2022, while Russia "has no benefits" from the CSTO, Ramzan Kadyrov has stated, reproaching the president of Kazakhstan but forgetting about the help Kazakhs had rendered to Chechens after the latter's deportation in 1944, Instagram* users have noted.
In the evening on June 21, Ramzan Kadyrov posted a video on his Telegram channel, in which he explained his statements addressed to CSTO leaders. "I was very upset by bloggers and hype lovers, who have stated a sort of Ramzan said something wrong about the Kazakh people. I want to upset or please them: I am more Kazakh than you are," Kadyrov said in the video footage. He recalled that his father Akhmat Kadyrov was born in the territory of modern Kazakhstan.
Kadyrov has added that his statement was addressed to politicians, not to the people of Kazakhstan. He has pointed out that Chechens are grateful for Kazakhs' help rendered to Chechens during the years of deportation.
*On March 21, the Tverskoi Court of Moscow banned the activities of the "Meta" Company (that owns the Facebook, Instagram and WhatsApp) in Russia in connection with its alleged extremist activities.
This article was originally published on the Russian page of 24/7 Internet agency 'Caucasian Knot' on June 22, 2022 at 09:29 am MSK. To access the full text of the article, click here.
Author: The Caucasian Knot