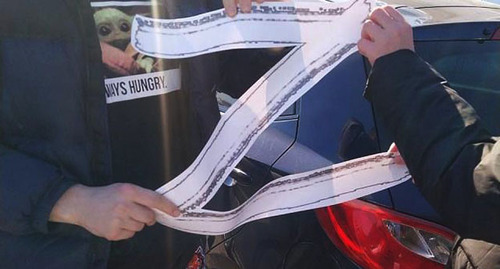 27 June 2022, 23:50
Nalchik resident gets a suspended sentence for discrediting Russian Armed Forces
In Nalchik, a court sentenced Zaurbek Zhambekov to a two-year suspended sentence for discrediting the Russian Armed Forces and involving a child in a crime. Zaurbek Zhambekov was accused of forcing his daughter to tear away the letter Z from a car. The defendant pointed out that the sign Z is not an official state symbol.
The "Caucasian Knot" has reported that according to the investigators' version, on March 21, Zaurbek Zhambekov instructed his 12-year-old daughter to tear away a ribbon of Saint George, which was pasted with the letter Z on a car in a city parking lot. A police officer then filed a complaint.
In March, Zaurbek Zhambekov was already fined under the article about discrediting the Russian Armed Forces because of his posts in social media. Repeated violations are subject to criminal penalties.
The Latin letter Z on Russian military vehicles, which is on the special military operation in Ukraine, means "For the Victory." The letter V, which is also used to mark Russian military vehicles, means "Strength in Truth", the Russian Ministry of Defence (MoD) wrote on Instagram* in March.
*On March 21, the Tverskoi Court of Moscow banned the activities in Russia of the Meta Company, owning Facebook, Instagram, and WhatsApp, in connection with extremist activities.
This article was originally published on the Russian page of 24/7 Internet agency 'Caucasian Knot' on June 27, 2022 at 01:43 pm MSK. To access the full text of the article, click here.
Source: Caucasian Knot