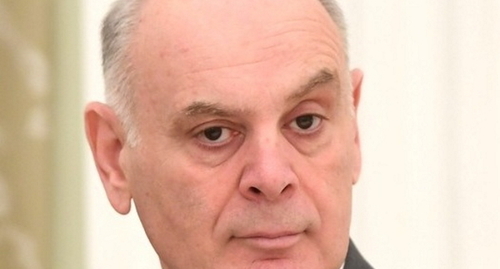 22 July 2022, 11:59
Aslan Bzhaniya interrupts his meeting with Machara villagers because of riots
The meeting of Aslan Bzhaniya with the residents of the village of Machara in the Gulripsh District of Abkhazia ended ahead of schedule due to a conflict that broke out between the audience and the Abkhaz president. The conflict was triggered by an activist's question about the agreement signed  earlier this year on the transfer of the "Pitsunda" state dacha to Russia.
The meeting was held in the district house of culture. It was attended by oppositionists, who were not let into the hall at the beginning the event, the "Echo of the Caucasus"* outlet reported on July 21.
The Abkhaz leader answered questions. At one point, Djansukh Adleiba, an activist, asked about the above agreement about the transfer of the "Pitsunda" state dacha to the Russian Federation, after which a skirmish broke out; law enforcers approached the activists; people in the hall jumped up from their seats; and some physical clashes began. The president left the meeting amid the mess. Outside, law enforcers tried to detain Adleiba, but people prevented this.
The Abkhaz Ministry of Internal Affairs (MIA) has issued a statement on the "inadmissibility of illegal actions during public events." The MIA warns that "it will suppress any illegal actions, including those of provocative nature," the "accentnews" outlet has reported.
*The "Echo of the Caucasus" is a project of the Radio Liberty, recognized by the Russian Ministry of Justice as a medium-foreign agent.
This article was originally published on the Russian page of 24/7 Internet agency 'Caucasian Knot' on July 22, 2022 at 01:54 am MSK. To access the full text of the article, click here.
Author: The Caucasian Knot