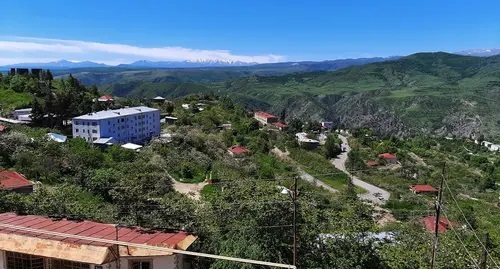 23 July 2022, 09:08
Baku analysts assess prospects for return of Lachin under Azerbaijan's control
The construction of a bypass road around Lachin will remove obstacles to the return of this city and the corridor of the same name under Azerbaijan's control, analysts in Baku believe.
The "Caucasian Knot" has reported that according to the agreement between Aliev-Pashinyan-Putin, Armenia has returned the Lachin District to Azerbaijan. The parties approved a plan for the construction of a new route along the Lachin Corridor that ensures a link of Nagorno-Karabakh with Armenia, with the subsequent redeployment of the Russian peacemaking contingent for guarding the new route.
The construction of the new road was planned for three years; and Azerbaijan has actually completed the work within two years, Rasim Musabekov, a political analyst, told the "Caucasian Knot" correspondent.
In general, he has noted, Azerbaijan's consent to build the road was Baku's compromise.
"Since the only road connecting Armenia with the Armenian-populated part of Karabakh passed through the Lachin District and its administrative centre, the city of Lachin, Azerbaijan compromised and agreed to build an alternative road bypassing the Lachin Corridor, which was temporarily transferred under the control of the Russian peacemaking contingent. At the same time, it was agreed to build, within three years, an alternative road and redeploy Russian peacemakers there, with the return of Lachin to Azerbaijan. That is, the only reason for delaying this return was the absence of an alternative road. Now, with the completion of this road that bypasses Lachin, this reason is eliminated," Mr Musabekov has explained.
This article was originally published on the Russian page of 24/7 Internet agency 'Caucasian Knot' on July 22, 2022 at 08:45 pm MSK. To access the full text of the article, click here.
Author: Faik Medjid Source: CK correspondent