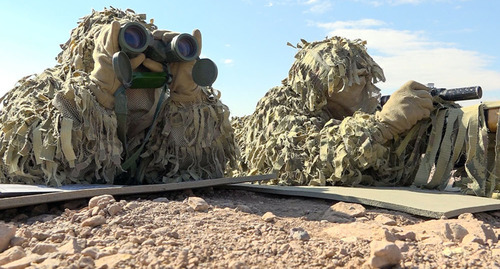 05 August 2022, 11:02
Operation in Nagorno-Karabakh improves Azerbaijan's strategic dominance
As a result of the hostilities in Nagorno-Karabakh, on August 3, the Azerbaijani Army occupied important heights that ensure control over strategically important roads on the border, the Baku analysts interviewed by the "Caucasian Knot" correspondent believe.
The "Caucasian Knot" has reported that on August 3, Azerbaijan announced a "Retribution" operation in Nagorno-Karabakh in response to the murder of an Azerbaijani serviceman. The MoD also reported that the Azerbaijani Army had captured a number of dominant heights. Baku demanded an immediate removal of Armenian militaries from Nagorno-Karabakh and threatened "even more destructive countermeasures" in case of provocations on the contact line. The authorities of Nagorno-Karabakh called for the world community to respond to Baku's actions.
"The August 3 hostilities in Karabakh became the largest since the end of the 44-day war in the fall of 2020," Azad Isazade, a military expert, a former employee of the Information and Analytical Department of the Azerbaijani Ministry of Defence (MoD), told the "Caucasian Knot" correspondent.
As a result, the Azerbaijani Army occupied a number of dominant heights that allow it to establish visual and fire control over key transport communications in the region and prevent any major redeployment of troops and thus forestall enemy attacks, Mr Isazade has stated.
Telman Abilov, the head of the NGO "Military Lawyers", also believes that Azerbaijan, having taken important heights, is now able to control the Lachin Corridor. "The Azerbaijani Army is now able not only to shell military targets moving along the Lachin Corridor, but can also establish physical control at any time, that is, to set up control checkpoints on the highway," Mr Abilov told the "Caucasian Knot" correspondent.
The events of August 3 have also shown that Armenian militaries should not rely on Russian peacemakers, because their presence is no obstacle for the Azerbaijani Army in fulfilling its missions, Telman Abilov has concluded.
This article was originally published on the Russian page of 24/7 Internet agency 'Caucasian Knot' on August 5, 2022 at 01:59 am MSK. To access the full text of the article, click here.
Author: Faik Medjid Source: CK correspondent