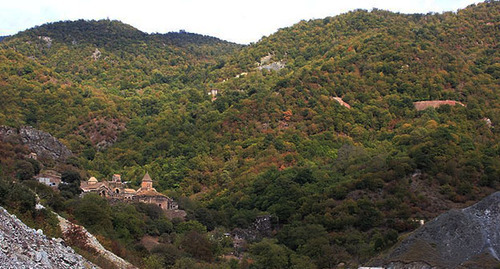 09 August 2022, 13:21
Baku analysts assess importance of Mount Buzdukh capture for Azerbaijan
Taking control over the Buzdukh height is of strategic value for the Azerbaijani Army and creates a springboard for new military operations in Karabakh, if they are necessary, Baku analysts assert. In their opinion, the Army can go on with the "Retribution" operation.
The situation in the conflict zone escalated on August 3, when Baku announced the "Retribution" operation conducted in Nagorno-Karabakh in response for the death of an Azerbaijani soldier as a result of Armenian shelling. On August 3, the Azerbaijani Army occupied the Sarybaba heights in the Shusha District and Gyrkhgyz in the Khodjaly District; and on August 6, Baku announced the capture of the Buzdukh strategic height.
According to Adalyat Verdiev, an expert, the capture of Mount Buzdukh and surrounding heights will allow the Azerbaijani Army to control the enemy's supply routes.
Last week, the Azerbaijani Army gained a strategic advantage that deprives Armenia of any chance for revenge, Telman Abilov, the head of the NGO "Military Officers", believes.
He treats the Azerbaijan's commitment to defeat Armenian militaries despite the presence of Russian peacemakers as an important result of the "Retribution".
Uzeir Djafarov, the head of the NGO "Military Journalists", believes that the operation has been suspended. According to his version, if the demilitarization of the region and complete withdrawal of Armenian armed forces fail, Azerbaijan will start preparing a continuation of the military operation.
This article was originally published on the Russian page of 24/7 Internet agency 'Caucasian Knot' on August 8, 2022 at 09:35 pm MSK. To access the full text of the article, click here.
Author: Faik Medjid Source: СK correspondent