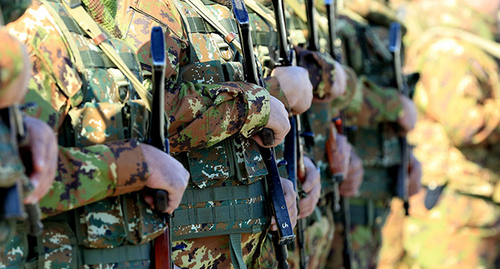 11 August 2022, 14:05
Analysts treat shootouts in Nagorno-Karabakh after "Retribution" as insignificant
After the Azerbaijani operation "Retribution" conducted in the Karabakh conflict zone, there were no active hostilities; shootouts were local in nature, analysts have pointed out, however, not ruling out a possible further conflict escalation.
The "Caucasian Knot" has reported that on August 3, Azerbaijan announced the "Retribution" operation to be held in Nagorno-Karabakh after the death of an Azerbaijani soldier. As a result of the fighting, Azerbaijan occupied the Sarybaba heights in the Shusha District and Gyrkhgyz heights in the Khodjaly District; and on August 6, it announced the capture of the strategic Buzdukh height. On August 8, Baku announced 10 shelling attacks committed against Azeri militaries during the past 24 hours, but Armenia and Nagorno-Karabakh refuted this information.
Azerbaijan is not interested in escalation, Azad Isazade, a military expert, believes.
"After the Azerbaijani Army has occupied a number of important dominant heights, there is no reason for Baku to preserve the military tension," he has stated.
In his opinion, the operation was a warning that Azerbaijan is ready to act in response to threats, despite the presence of Russian peacemakers in the region.
Azerbaijan launched strikes with precision weapons on enemy troops and showed its commitment to inflict damage on Armenian militaries anywhere in Karabakh, Mr Isazade has concluded.
Telman Abilov, the head of the NGO "Military Lawyers", believes that the shootouts of recent days "were provoked by Armenia" in the hope of a reaction from the world community.
This article was originally published on the Russian page of 24/7 Internet agency 'Caucasian Knot' on August 10, 2022 at 07:56 pm MSK. To access the full text of the article, click here.
Author: Faik Medjid Source: СK correspondent