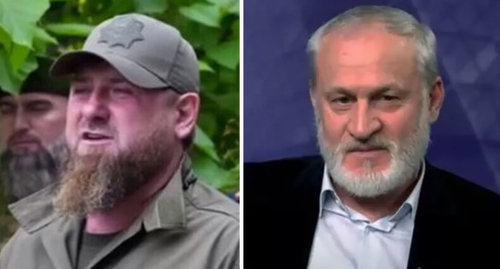 22 September 2022, 11:55
Kadyrov announces contest for assassination of Zakaev
Ramzan Kadyrov has stated that he is ready to "reach" Akhmed Zakaev, who lives in the UK, at any cost, offering his fellow countrymen living abroad to kill Zakaev, the Premier of the self-proclaimed Ichkeria, in exchange for pardoning and return to Chechnya.
The "Caucasian Knot" has reported that on February 26, Akhmed Zakaev, residing in Great Britain, proposed to the President of Ukraine to send immigrants from Chechnya living in Europe to the war zone.
Akhmed Zakaev is the Prime Minister of the self-proclaimed Chechen Republic of Ichkeria (2007-2009). He was put on the international wanted list on charges of terrorism and received political asylum in the UK.
"I'll reach him, even if the whole world turns upside down," the head of Chechnya stated in a video message on his Telegram channel. He has claimed that Zakaev, who "is recording videos with calls not to take part in the special operation in Ukraine and offers to leave the homeland," denigrates the Chechen people.
Following Kadyrov, Adam Delimkhanov, his adviser, has also called to deal with Zakaev. In a video posted on his Telegram channel, he treated Zakaev and his supporters as "Satanists."
On September 15, 2021, Kadyrov promised to "burn down" Zakaev for mentioning Akhmat Kadyrov. It also became known about the detention of Akhmed Zakaev's brothers, and then a video was released, in which Zakaev's relatives insult him and threaten him with execution.
This article was originally published on the Russian page of 24/7 Internet agency 'Caucasian Knot' on September 22, 2022 at 01:15 pm MSK. To access the full text of the article, click here.