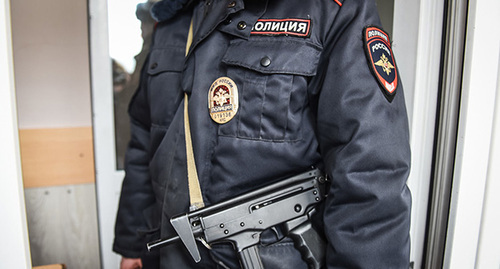 29 September 2022, 23:24
Dagestan chooses violence against mobilization opponents
Authorities of Dagestan have chosen a forceful method of suppressing actions against mobilization and bringing their participants to justice, including the criminal liability. In the Kabardino-Balkarian Republic (KBR), officials went out to protesters for dialogue; while Chechen authorities promised to send protesters' husbands to Ukraine.
The "Caucasian Knot" has reported that street protests against mobilization were held in Dagestan, KBR and Chechnya. The largest actions were held on September 25 and 26 in Makhachkala; they ended in mass detentions.
The KBR was the only region in Northern Caucasus, where officials came out to have a dialogue with the protesters. However, the officials stated that mobilization opponents were behaving "unconstructively."
On September 22, at a meeting with officials, women of Baksan spoke against mobilization. One of the officials urged them "not to make a fuss", but this only angered the audience still more.
In Chechnya, on September 21, in Grozny, law enforcers stopped a protest action. Ramzan Kadyrov treated mobilization opponents as people's enemies, but the day after the rally he announced that there would be no partial mobilization in Chechnya.
On September 26, in Makhachkala, law enforcers stopped an anti-mobilization action; at least 150 people were taken to the police station. In Khasavyurt, on this day, there were also forceful detentions of protesters against mobilization.
About 30 criminal cases on the use of violence against state officials are being investigated in Makhachkala in connection with anti-mobilization protests, human rights defenders have reported. At least eight persons were arrested; three more young women were sentenced to fines. Some of the detainees have stated that they had not taken part in the rally, but ended up in the square by accident.
On September 25, in Makhachkala, law enforcers violently dispersed an action against mobilization. According to the "Chernovik" outlet, about 100 people were detained.
Dagestani authorities refused to regard the street protests as local residents' initiative. On September 26, Sergey Melikov, the head of the region, stated that the actions in Makhachkala had been prepared "from abroad". He called the video, showing the use of force by policemen to disperse protesters, a staged one.
This article was originally published on the Russian page of 24/7 Internet agency 'Caucasian Knot' on September 28, 2022 at 10:45 pm MSK. To access the full text of the article, click here.
Source: Caucasian Knot