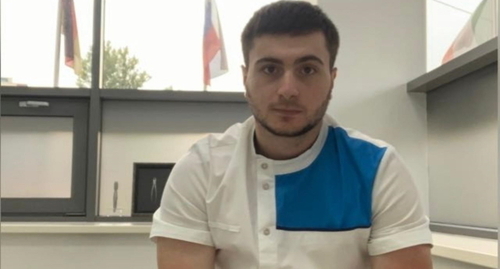 05 October 2022, 15:14
Kislovodsk doctor's sister tells about his captivity in Ukraine
Murat Karabashev, a military doctor, was sent to the special operation after graduating from university and was captured when he tried to take patients out, his sister has reported.
A video clip about the capture of the 23-year-old Lieutenant Karabashev was posted on the YouTube channel of one of Ukrainian bloggers. According to Tamilla, Murat's sister, their fellow countrymen offered to transfer money so that Murat would be released, but the blogger told them that the prisoners of was (POWs) were intended to be exchanged for Ukrainian militaries.
The Ukrainian Ministry of Defence (MoD) has assured that in relation to Karabashev "all the POW's rights are observed in line with the Geneva Convention." Tamilla regrets that the Russian MoD has failed to provide the family with any documents.
In the military unit that Karabashev had chosen, he began his service on August 1, the sister has added. "He treated conscripts' and contract soldiers' teeth and helped everyone who served in the unit. The order to go to the military operation zone arrived on August 25. He was sent to a military medical company," Tamilla has explained.
This article was originally published on the Russian page of 24/7 Internet agency 'Caucasian Knot' on October 4, 2022 at 00:21 am MSK. To access the full text of the article, click here.
Author: Naim Suleimanov Source: СK correspondent