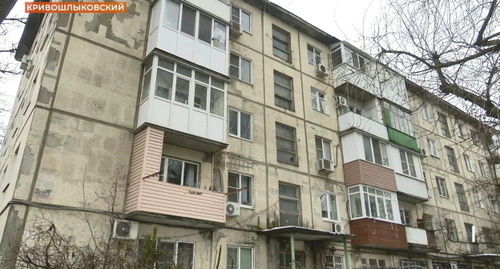 15 October 2022, 23:50
Rostov-on-Don: emergency house tenants have power and water supplies connected
After almost six weeks of outage, electricity and water supplies have been reconnected to No. 4 in Krivoshlykovsky Lane in Rostov-on-Don; the house was recognized as an emergency one. After the tenants' complaints, a criminal case of negligence was initiated.
The "Caucasian Knot" has reported that on September 3, tenants of the above Rostov house went out and lined up at the entrances with candles and empty buckets, protesting that water and electricity supplies had been cut off for three days by then. People organized a round-the-clock duty so that they could not turn off the gas supply either. On October 7, it became known that gas, electricity and water supplies to the house were turned off after anonymous calls about accidents.
On April 25, the Rostov Regional Court dismissed the tenants' complaint demanding to cancel the city authorities' decision declaring that the house was in the state of emergency. The claimants refused to move out and insisted on a major overhaul.
Now, the managing company has reconnected the electricity and water supplies to the house, the "161.ru" outlet has reported, referring to tenants. However, they expect problems with central heating, as some residents who have already moved out cut off the heating radiators, and when hot water was supplied into the system, flooding began.
This article was originally published on the Russian page of 24/7 Internet agency 'Caucasian Knot' on October 15, 2022 at 06:24 am MSK. To access the full text of the article, click here.
Source: Caucasian Knot