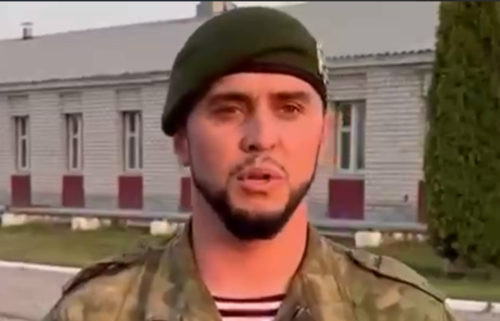 31 October 2022, 22:52
"Rosgvardiya" fighter from Chechnya continues youth recruiting campaign
Amid Kadyrov's statement about 13-million-rouble payments to casualties, Bislan Chabaev, a deputy commander of the "Akhmat-1" OMON (riot police) battalion, has called on young people to go to army service and "represent their people." Social media users have treated this as a call to die in the military operation.
The "Caucasian Knot" has reported that the above Chabaev had called on the unemployed residents of Chechnya to go to Ukraine to defend their republic. They should sign up en masse as volunteers and take part in the special operation in Ukraine, the head of the republic, Ramzan Kadyrov, has stated.
On September 6, Kadyrov announced that "several thousand committed volunteers and elite fighters" were preparing to depart to Ukraine.
Askhab Nakaev, a deputy commander of the "Akhmat-1" OMON company of the Chechen branch of the "Rosgvardiya" (Russian National Guard), has called on Chechen youth to stop wasting their time "hanging out in the street," and to support the nation in this difficult period, the "Grozny Inform" News Agency has reported.
A meaningless life can only be worse than a meaningless death; and in Ukraine, residents of Chechnya "defend everything that is dear to them," Akhmed Dudaev, the head of the Chechen Ministry of Press, wrote in his Telegram channel.
Kadyrov promised to support families of the fallen fighters. "Those wounded receive three million each. Besides, for casualties' families, we provide a pilgrimage to sacred Mecca," he wrote in his Telegram channel.
This article was originally published on the Russian page of 24/7 Internet agency 'Caucasian Knot' on October 31, 2022 at 00:14 am MSK. To access the full text of the article, click here.
Source: Caucasian Knot