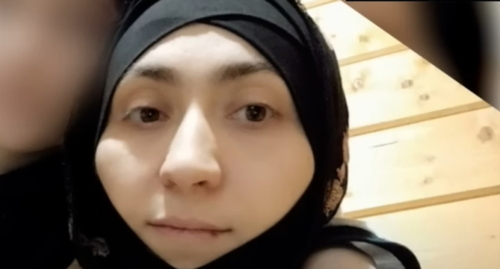 05 November 2022, 18:29
Amina Gerikhanova receives refugee status
Amina Gerikhanova, a native of Chechnya, who was put on the wanted list by Russia as a participant in hostilities in Syria, has received refugee status in Romania. This was reported by the Swedish-based "Vayfond" human rights association.
The "Caucasian Knot" has reported that on September 8, the "Vayfond" reported that the Romanian police did not allow Gerikhanova to be at large after her release from custody. She complained about threats from the Romanian police to extradite her to Russia, contrary to the recommendations of the European Court of Human Rights (ECtHR). On October 30, employees of the human rights organization "Amnesty International" took part in a rally in support of Gerikhanova in Vienna.
Amina Gerikhanova, 36, was detained with her child on March 13, 2022, on the Romanian border while trying to leave Ukraine, where she had lived after leaving Chechnya. She was arrested; and her son was placed in an orphanage, from where a relative took him. During the consideration of Gerikhanova's asylum request, the ECtHR extended interim measures, which reduced the risk of her extradition from Romania to Russia, the "Vayfond" reported.
This article was originally published on the Russian page of 24/7 Internet agency 'Caucasian Knot' on November 4, 2022 at 11:56 pm MSK. To access the full text of the article, click here.
Source: Caucasian Knot