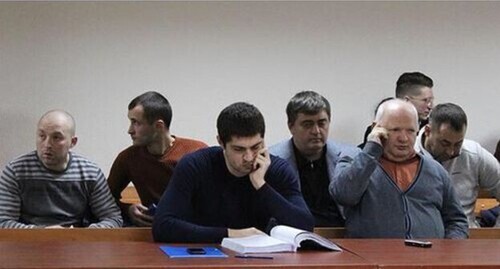 09 November 2022, 23:49
North Ossetia: release of those convicted for Tskaev's death outrages social network users
Social networks users have treated the court judgement on the conditional early relief (CER) of two law enforcers convicted within the case of the death of Vladimir Tskaev, a Vladikavkaz citizen, as unfair.
The "Caucasian Knot" has reported that on November 8, Spartak Buzoev and Alan Bigaev, convicted under the case of the death of Vladimir Tskaev, were released from a colony in the Sverdlovsk Region.
On April 13, the Supreme Court (SC) of North Ossetia commuted the sentences of six policemen convicted within the case of Tskaev's death. Four of them (Atsamaz Datiev, Vladimir Valiev, Oleg Dzampaev and Azamat Tsugkiev) were released from punishment due to the expiration of the statute of limitations; and two others (Soslan Sitokhov and Alan Bigaev) had their prison terms reduced by the SC. The sentences of four others (Georgy Tsomaev, Alan Khokhoev, Shota Maisuradze and Spartak Buzoev) were left unchanged. This decision is outrageous amid the facts that others receive longer prison terms for less serious crimes, the blogger, Alik Pukhaev, and Zaur Farniev, a journalist, have pointed out.
The news about the release of Bigaev and Buzoev has outraged the authors of the comments posted on the Instagram* and Telegram.
"We'll never have any justice!!! As long as this happens! So that criminals in uniform and shoulder-straps are released under CER for such a terrible crime! Shame and disgrace to our justice!" the user ta_sarm wrote, in particular.
Several users have treated the judgement to release former law enforcers as predictable.
The Tskaev's family claimed 15 million roubles from the Ministry of Internal Affairs (MIA) as compensation for the suffered moral harm. However, lawyers treat the chances of fair compensation as minimal.
Let us remind you that Vladimir Tskaev died after being interrogated at the Vladikavkaz police station on November 1, 2015. His son at that time was eleven years old, and his daughter was eight.
The investigation into his death lasted for more than two years. According to his widow Zemfira Tskaeva, the defendants' defence protracted the trial – out of 143 sessions that were supposed to take place 73 were postponed.
This article was originally published on the Russian page of 24/7 Internet agency 'Caucasian Knot' on November 9, 2022 at 08:45 am MSK. To access the full text of the article, click here.
Source: Caucasian Knot