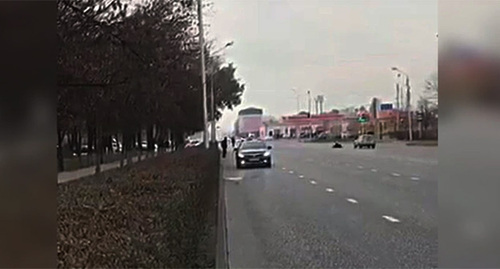 23 November 2022, 14:08
Rights defenders report about raid on relatives and friends of murdered Chechen Magomed Zakriev
Chechen law enforcers have taken away relatives and friends of Movsar Zakriev, who was shot dead on November 21 in Grozny, to some unknown place. There is no information about where the detainees are kept, Oleg Orlov, the head of the "Hot Spots" programme, and Svetlana Gannushkina, the head of the "Civic Assistance" Committee*, have informed.
The young man shot dead after attacking a law enforcer in Grozny acted alone, says an audio record posted in the social network as an appeal from the man who had planned the attack. The attacker was a local resident, born in 2003, investigators have informed. The man shot dead by law enforcers is Movsar Zakriev from the village of Aldy, the "Niyso" Telegram channel has clarified. The incident in Grozny has shown that Chechnya is still not safe, Abubakar Yangulbaev, a lawyer, has noted.
The assassinated traffic police (GIBDD) inspector left for the prayer room to commit ablution, where the attacker mortally stabbed him, Ramzan Kadyrov, the head of Chechnya, said earlier.
In the Chechen village of Aldy, law enforcers have kidnapped relatives of the young man who had killed the GIBDD inspector, the "Niyso" oppositional Telegram channel reported on November 21.
The "Vayfond" human rights association has added that apart from relatives, Zakriev's friends and acquaintances were also taken away to some unknown place. The association's message states that "no one is responsible" for Movsar's actions; and such mass detentions "are grossly violating human rights."
This article was originally published on the Russian page of 24/7 Internet agency 'Caucasian Knot' on November 22, 2022 at 09:08 pm MSK. To access the full text of the article, click here.
Source: СK correspondent