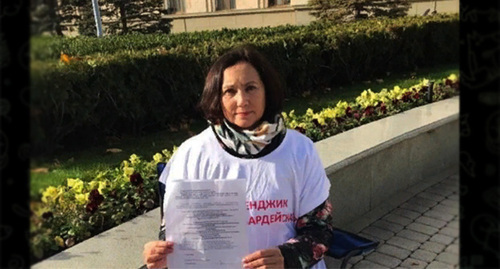 25 November 2022, 15:22
Housing investor of demolished high-rise building in Gelendjik goes on hunger strike
Lyudmila Guslyakova, a pensioner, has begun her hunger strike at the Krasnodar Territorial Administration. She demands fulfilment of authorities' promises to provide housing to equity holders of the 14-storey building in Gelendjik, which was demolished as an illegal construction.
The "Caucasian Knot" has reported that 440 people were owners of apartments in the 14-storey building No. 79 in Krasnogvardeiskaya Street. Its construction was completed in 2013. After the house was commissioned, Gelendjik authorities demanded in court to recognize it as an illegal construction, stating that the land under the house was in ownership. Activists have repeatedly held protest actions against the decision of the Gelendjik authorities to demolish the house as unauthorized construction, as well as demanding the resignation of the head of the city.
"Authorities of the territorial administration have talked to us more than once; they promised to build another house for deceived equity holders. But nothing has been done so far. I intend to stay at the administration building until our problem is solved," the "Kommersant-Kuban" quotes Lyudmila Guslyakova as stating.
According to her story, she had invested into an apartment in the house in question by selling her only housing.
"Since 2011, I have no roof over my head and a very modest pension," the woman has added.
This article was originally published on the Russian page of 24/7 Internet agency 'Caucasian Knot' on November 24, 2022 at 09:11 pm MSK. To access the full text of the article, click here.
Source: Caucasian Knot