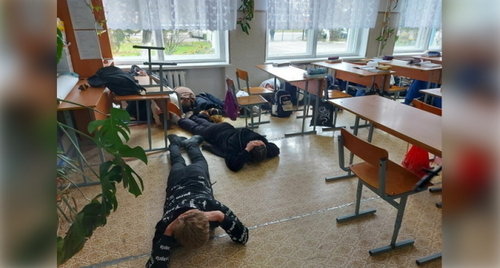 28 November 2022, 23:59
Psychologists criticize anti-terror exercises in KBR involving children
The participation of schoolchildren in anti-terrorist exercises, where they act as terrorists or victims, can affect their psyche. Children can get used to their roles, psychologists have warned. The Ministry of Education of the Kabardino-Balkarian Republic (KBR) has reported that the exercises at the school of the village of Priblizhnaya were held in accordance with a government's resolution; and the lawyer has noted that parents could refuse to participate in such events with their children.
A video appeared on the Internet with anti-terrorist exercises held at a school in the KBR's village of Priblizhnaya, during which the capture of the school by armed terrorists was staged. The video has outraged social network users. In the video posted in the "Mash Gor" Telegram channel, three men in camouflage break into a school classroom. Threatening with weapons, they ordered schoolchildren to get up, raise their hands behind their heads and come to the window. It is also shown that children lay down on the floor.
The anti-terrorist exercises, in which schoolchildren have to act as terrorists or victims, can negatively affect their psyche, Irma Prokhorova, a psychologist, has noted.
Anna Korzhuk, her colleague, has expressed a similar opinion. "Both those, who act as victims, and those, who act as terrorists, can get used to their roles. This has an extremely negative effect on the kids' psyche. This should be categorically forbidden," she has stated.
If parents disagree with their children's participation in such exercises, they can apply in writing to the school bosses and demand not to involve their children in the exercises, Oleg Sergeev, a lawyer, has noted.
This article was originally published on the Russian page of 24/7 Internet agency 'Caucasian Knot' on November 28, 2022 at 10:24 am MSK. To access the full text of the article, click here.
Source: СK correspondent