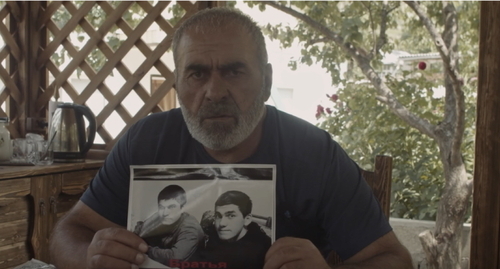 29 November 2022, 16:31
Documentary film "Spark in the Mountains" tells YouTube users a story about killing of Gasanguseinov brothers
The documentary film "Spark in the Mountains" directed by Kamill Khardin was shot immediately after the film director's tourist trip to Dagestan, as he could not remain indifferent to the topic of the killing of the Gasanguseinov brothers. According to the film director himself, the script for the feature film is now ready. The viewers who watched the film on the Kamill Khardin's YouTube channel say as many people as possible should learn about the tragedy. The case on the brothers' killing has not moved forward during six years, despite promises from the authorities, family's legal representative Djambulat Gasanov states.
The "Caucasian Knot" has reported that 17-year-old and 19-year-old Nabi and Gasangusein Gasanguseinov were killed in a special operation held in August 2016. Law enforcers declared that the Gasanguseinov brothers were militants, but the parents of the killed brothers and their fellow villagers insist that the young men were shepherds and simply grazed cattle in the mountains.
Kamil Khardin, the author of the documentary film "Spark in the Mountains", published in the KAM KHARDIN YouTube channel, says that, while in Dagestan, he heard from a local resident the story about the killing of the Gasanguseinov brothers, was imbued with it, and after completing the trip, he returned to Dagestan two weeks later.
According to Kamil Khardin, the script revolves around the "human factor."
Kamil Khardin believes that the killing of the Gasanguseinov brothers is an exceptional event, although a local one, but many residents of Russia are not aware about the tragedy that had happened. The film director wants the maximum number of people to know about the tragedy.
Human rights defender Djambulat Gasanov, the legal representative of Murtazali Gasanguseinov, notes that there is no progress in the investigation into the killing of the Gasanguseinov brothers. Besides, there is no result from the appeals of Djambulat Gasanov himself and Murtazali Gasanguseinov to various public institutions.
This article was originally published on the Russian page of 24/7 Internet agency 'Caucasian Knot' on November 28, 2022 at 01:57 pm MSK. To access the full text of the article, click here.
Source: СK correspondent