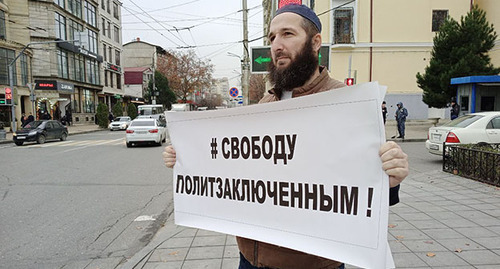 29 November 2022, 16:37
At pickets, colleagues of Dagestani journalist Gadjiev demand his freedom
The Dagestani "Chernovik" outlet is under officials' pressure, its journalists have stated at their solo pickets held in support of their colleague Abdulmumin Gadjiev. Policemen demanded explanations from the picketers for their actions.
The "Caucasian Knot" has reported that Gadjiev's colleagues consider treat his criminal case of financing terrorism as political persecution and regularly hold actions in Makhachkala in Gadjiev's support. Thus, on November 14, pickets demanding to stop prosecuting Gadjiev and to release political prisoners were held by Magdi Kamalov, the founder of the "Chernovik", and Idris Yusupov, a journalist of the "Novoye Delo" outlet.
On November 28, three solo pickets were held in Makhachkala, Idris Yusupov has reported. Magomed Magomedov, a deputy editor-in-chief of the "Chernovik", held the first picket demanding an end to the criminal prosecution of Gadjiev. The second picket demanding freedom of journalism was held by Magdi Kamalov. The third picket demanding freedom for political prisoners was held by Yusupov himself.
The passers-by and car drivers who were passing by the solo pickets showed their interest in each of the actions.
Policemen took explanations from the picketers and wrote down their personal data. Magdi Kamalov said that in his written explanations to the law enforcer he stated that officials were pressuring the independent outlet "Chernovik".
The "Caucasian Knot" has also reported that on November 24, the editorial board of the "Chernovik" announced that the printing of the weekly had been disrupted due to the refusal of the printing house. Authorities have threatened printers with problems for printing the outlet, and urged advertisers not to advertise in it, the outlet's executives have stated.
This article was originally published on the Russian page of 24/7 Internet agency 'Caucasian Knot' on November 28, 2022 at 10:28 pm MSK. To access the full text of the article, click here.
Source: СK correspondent