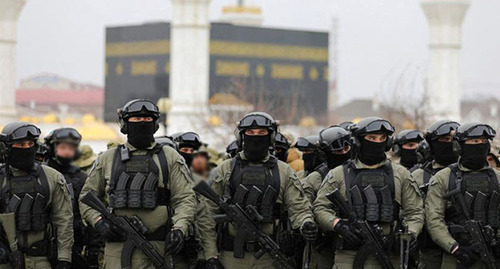 02 December 2022, 21:53
Inclusion of Kadyrov's regiment into list of terrorist organizations attracts analysts' attention
The statement about the inclusion of the Kadyrov's regiment "Sever" (North) into the list of terrorist organizations indicates the toughening of the position of the authorities of the European Union (EU) towards Chechen law enforcers and their actions; the appearance in this list can have both immediate consequences in the form of a ban on entry into Europe and arrest of assets, and distant ones in the form of prosecution, analysts have warned.
The call of the Members of the European Parliament (MEPs) to include the 141st regiment "Sever" into the list of terrorist organizations is declarative, but the state institutions of the EU countries, as well as European institutions, will take it into account when making decisions, said Tatiana Chernikova, a lawyer with the "Memorial"* Centre for Defence of Human Rights.
She has doubted that EU's authorities are entitled to deprive the relatives of those on the list of terrorists of their refugee status.
Andre Filler, a geopolitics expert, has recalled that the list of terrorist organizations exists in the EU since 2008. "One can enter this list, and can quit it. Members of the listed organization have the right to apply to the European Tribunal asking to remove them from the list," he has explained, adding that later those on the list could face legal consequences.
According to Mr Filler, sanctions against those who are recognized as terrorists are also limited. "There are only two specific measures: firstly, a ban on entry into the EU; and secondly, the arrest of financial assets."
Let us remind you that lawyers have treated the European Parliament's decision on the inclusion of the Chechen 141st regiment "Sever" into the list of terrorist organizations as purely declarative.
This article was originally published on the Russian page of 24/7 Internet agency 'Caucasian Knot' on December 1, 2022 at 01:30 pm MSK. To access the full text of the article, click here.
Source: СK correspondent