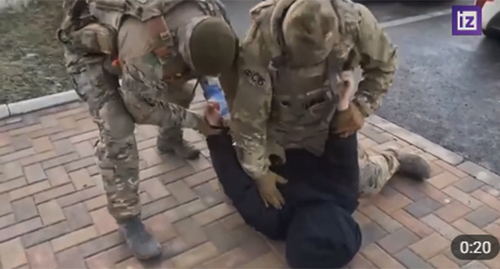 24 January 2023, 21:10
FSB reports about prevented terror act in Northern Caucasus
A man suspected in the preparation of a terror act in the North-Caucasian Federal District has been detained, the FSB reports. The detainee confessed to plotting an attack on the police.
FSB officers prevented an attempted terror act in the North-Caucasian Federal District (NCFD), the press service for the Russian FSB announced. "FSB officers prevented an attempt to commit a crime of a terrorist nature, planned by a citizen of Russia, a follower of nationalist ideology. The suspect was plotting to commit the crime on the instructions from the Ukrainian special services," the FSB reports on its official website.
"Ready-to-use means of terror" were found in the detainee's house, the FSB reported.
The video of the detention was posted on the "Izvestia" Telegram channel.
"I was an agent of the Ukrainian special services ... On their instructions, I was to come to the North-Caucasian Federal District and commit a terror act against the police. I repent of my deed, and I admit my guilt," the man says in the video.
On December 30, the Russian FSB reported about the detention of a Ukrainian citizen suspected of plotting a terror act in Northern Caucasus on the instructions of the Ukrainian special services.
In October 2022, the FSB reported about three terror acts that had been prevented in the Stavropol Territory. According to law enforcers, in two cases, supporters of the "Islamic State" (a terrorist organization, banned in Russia by the court, – note of the "Caucasian Knot") had been detained, while supporters of Ukrainian radical organizations had been detained once.
The secret nature of the FSB activities makes it impossible to verify the validity of reports about prevented terror acts, but the law enforcers are clearly interested in demonstrating the importance of their work against the backdrop of the special military operation in Ukraine, analysts emphasize.
This article was originally published on the Russian page of 24/7 Internet agency 'Caucasian Knot' on January 23, 2022 at 03:29 pm MSK. To access the full text of the article, click here.
Source: Caucasian Knot