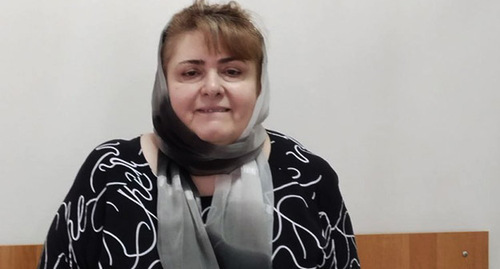 27 January 2023, 22:15
Court appoints new examination in Zarema Musaeva's case
A court in Grozny has granted a motion of Zarema Musaeva's defence for a new expert examination and agreed that it should be conducted outside of Chechnya, a lawyer for the Team Against Torture* has informed.
The "Caucasian Knot" has reported that on December 1, 2022, Musaeva completely denied the charges. On December 2, the court extended her arrest by two months. On the anniversary of her detention, her son, Abubakar Yangulbaev, called on Ramzan Kadyrov to release his mother in exchange for himself.
An independent expert had proved that an abrasion on a law enforcer, which became the basis for accusing Musaeva of using violence against a state servant, couldn't cause even slight harm to his health, Konstantin Gusev, a lawyer, has stated.
The court granted the petition of Musaeva's advocates on the need to conduct a new, already the third, forensic medical examination, Abubakar Yangulbaev, Zarema's son, who is a lawyer himself, has written in his Telegram channel.
Alexander Nemov and Alexander Savin, the advocates, have provided the court with a conclusion of an independent expert that refutes the conclusion of an expert from Chechnya that Musaeva was able to inflict a wound on the face of the law enforcer with her hand, the Team Against Torture* has reported.
This article was originally published on the Russian page of 24/7 Internet agency 'Caucasian Knot' on January 26, 2022 at 07:33 pm MSK. To access the full text of the article, click here.
Source: Caucasian Knot