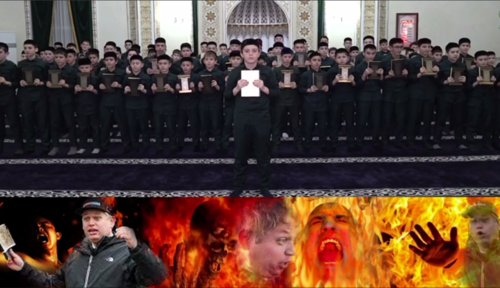 03 February 2023, 16:35
Chechnya: children involved in activities in defence of Koran
Ramzan Kadyrov, the head of Chechnya, has posted a video with the mass participation of children speaking out in defence of the Koran in response to the actions with the burning of this book held in Denmark and Sweden.
The "Caucasian Knot" has reported that on January 22, Ramzan Kadyrov condemned Rasmus Paludan, the leader of the Danish far-right "Hard Course" Party, who on January 21 burned the Koran down near the Turkish Embassy in Stockholm. A similar action with the burning of the Koran was held in Denmark. The head of Chechnya suggested that "political forces" were behind the performance and threatened Paludan with "retribution."
The video showing a group of boys holding the Koran was posted in Kadyrov's Telegram channel.
"Our Koran is the light, and the enemies [and their path] are darkness ... The Koran is a revelation guarded by Allah. Even if they burn its pages down," the caption to the video says.
The school in Argun is the fifth Khafiz School in Chechnya; it was opened in 2014 and bears the name of Ramzan Kadyrov's grandmother, Tabarik Baisultanova, the "Grozny-Inform" outlet writes.
The "Caucasian Knot" has reported that the head of Chechnya had earlier posted messages in his social networks where children took part in political actions. Thus, on November 12, 2022, he boasted that children in Chechnya were praying for the participants in the special military operation (SMO) who "defend their religion" in Donbass.
This article was originally published on the Russian page of 24/7 Internet agency 'Caucasian Knot' on February 2, 2023 at 10:00 pm MSK. To access the full text of the article, click here.
Source: Caucasian Knot