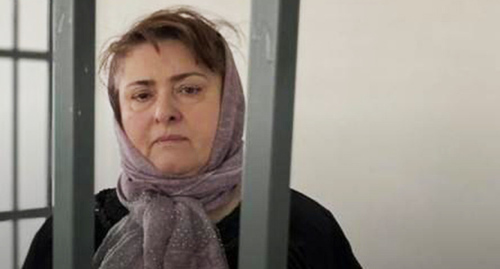 23 February 2023, 16:13
Zarema Musaeva complains about deterioration of her health in SIZO
Long and frequent court hearings affected the health state of arrested Zarema Musaeva, who is accused of assaulting a law enforcer. The arrested woman stated that her health deteriorated in a SIZO (pre-trial prison) in Chechnya and her eyesight began to fade.
The "Caucasian Knot" has reported that on January 12, the Supreme Court (SC) of Chechnya agreed with the extension of the Zarema Musaeva's arrest. Her condition worsened in the detention facility, where Zarema Musaeva receives no medical treatment, her advocate reports. On February 2, the court extended the arrest of Zarema Musaeva until May 12.
Zarema Musaeva is accused of assaulting a law enforcer and fraud. When extending the arrest, the court agreed with the investigators' unfounded arguments stating that the sick woman could escape from the republic, her son Abubakar Yangulbaev pointed out.
A letter of Zarema Musaeva from the SIZO was published by the "Svobodnoye Prostranstvo" (Free Space) website, run by journalists from the newspaper "Novaya Gazeta". In her letter, Zarema Musaeva writes that her "eyesight began to fade in the SIZO," which made it difficult for her to read books.
The arrested woman also complains that court hearings tire her. "Wake up at 6 a.m., to bed at 10 p.m. Two days a week – Thursday and Friday –are allotted for trials in court," Zarema Musaeva notes.
Zarema Musaeva hopes that what is happening to her is temporary difficulties. "Sometimes I lie down all night and can't sleep … I can't understand what I'm suffering for," the woman explains.
Let us remind you that on January 20, 2022, Zarema Musaeva was taken away by law enforcers from Nizhny Novgorod to Grozny, where she was arrested on the charges of assaulting a law enforcer. The human rights project "Support for Political Prisoners" recognized Zarema Musaeva as a political prisoner.
This article was originally published on the Russian page of 24/7 Internet agency 'Caucasian Knot' on February 22, 2023 at 06:50 pm MSK. To access the full text of the article, click here.
Source: Caucasian Knot