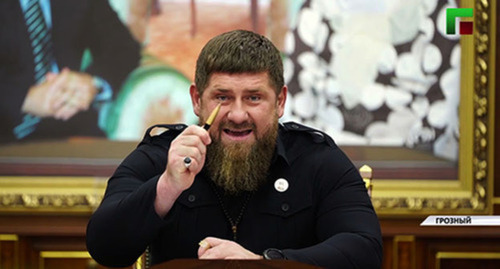 19 March 2023, 18:43
Kadyrov's threats to Koran burners remind social media users of extrajudicial executions
The promise announced by Ramzan Kadyrov to reward for killing or capturing the authors of the Koran-burning video has opened up wide opportunities for punishing those who had nothing to do with the filming of the video, while the mass executions of residents of Chechen during military campaigns went unpunished, social media users have pointed out.
The "Caucasian Knot" has reported that on March 17, Ramzan Kadyrov promised to pay 5 million roubles for the execution of participants in the video, in which a page from the Koran was used to light a fire, and 10 million roubles for capturing them alive.
On March 16, Kadyrov posted a video from TikTok in his Telegram channel, in which people in military uniforms similar to those of the Armed Forces of Ukraine tear out a page from the Koran to light a fire. TikTok users have treated the video as a staged one.
The post about the rewards promised by Kadyrov was placed on March 17 in the Instagram* public "ChP/Chechnya". Some commentators have also expressed dissatisfaction with the burning of the Koran page.
Some users recalled extrajudicial executions in Chechnya. "And when will a reward be set for the capture or the heads of those militaries, who committed massacres during the punitive cleansing operations in the villages of Samashki, Aldy and others?" the user follow_me_696 has asked.
The cleansing operation in the village of Samashki was conducted in April 1995 by the forces of the Russian Ministry of Internal Affairs (MIA). Apart from law enforcers and Chechen militants, more than 100 local residents were killed. This became the most well-known case of civilians' massacre. More than 50 people fell victims to extrajudicial killings, including a one-year-old child, nine women and 11 elderly villagers.
Ramzan Kadyrov "has decided to catch the hype by using a rather murky and incomprehensible topic," the user joseph.ondricka, a reader of the "Caucasian Knot", has suggested. "Firstly, there are big doubts that these are the fighters of the Armed Forces of Ukraine who are burning the Koran page. It looks more like a provocation ... Secondly, the participants in this 'action' are hiding their faces," the user has written.
This article was originally published on the Russian page of 24/7 Internet agency 'Caucasian Knot' on March 18, 2023 at 04:12 pm MSK. To access the full text of the article, click here.
Source: Caucasian Knot